——
#DonLucElectronics #DonLuc #ETextiles #Wearable #FLORA #MicroOLED #BME280 #CCS811 #Arduino #Project #Programming #Electronics #Microcontrollers #Consultant
——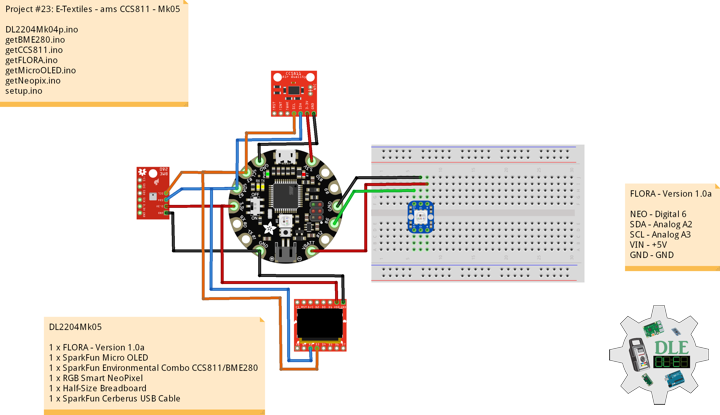 ——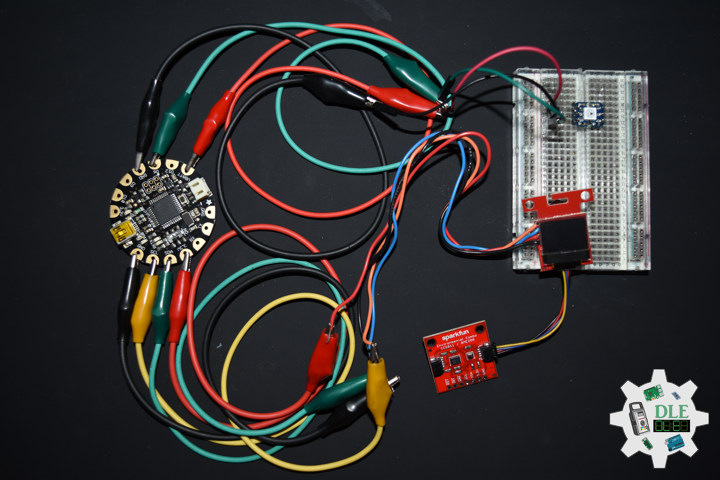 ——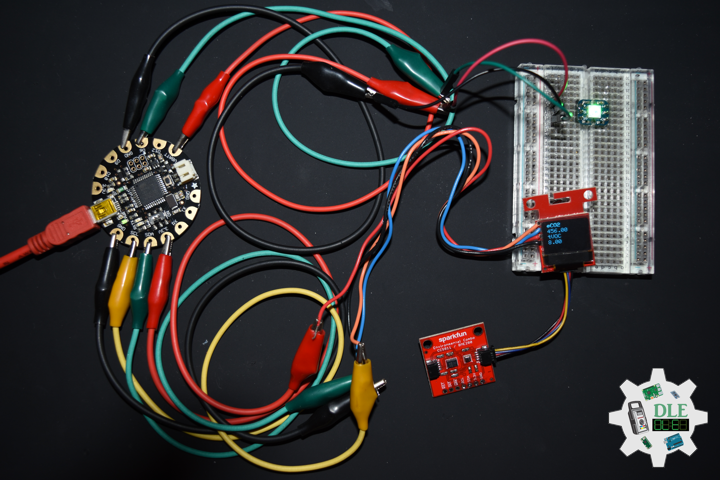 ——
ams CCS811 Ultra-Low Power Digital Gas Sensor for Monitoring Indoor Air Quality
The CCS811 is an ultra-low power digital gas sensor solution which integrates a metal oxide (MOX) gas sensor to detect a wide range of Volatile Organic Compounds (VOCs) for indoor air quality monitoring with a microcontroller unit (MCU), which includes an Analog-to-Digital converter (ADC), and an I²C interface.
CCS811 is based on ams unique micro-hotplate technology which enables a highly reliable solution for gas sensors, very fast cycle times and a significant reduction in average power consumption. The integrated MCU manages the sensor drive modes and raw sensor data measured while detecting VOCs. The I²C digital interface significantly simplifies the hardware and software design, enabling a faster time to market.
CCS811 supports intelligent algorithms to process raw sensor measurements to output a TVOC value or equivalent CO2 (eCO2) levels, where the main cause of VOCs is from humans. CCS811 supports multiple measurement modes that have been optimised for low-power consumption during an active sensor measurement and idle mode extending battery life in portable applications.
Applications
This device can be mainly used for indoor air quality monitoring in:
Smartphones
Wearables
Home and building automation
Accessories
DL2204Mk05
1 x FLORA – Version 1.0a
1 x SparkFun Micro OLED
1 x SparkFun Environmental Combo CCS811/BME280
1 x RGB Smart NeoPixel
1 x Half-Size Breadboard
1 x SparkFun Cerberus USB Cable
FLORA – Version 1.0a
NEO – Digital 6
SDA – Analog A2
SCL – Analog A3
VIN – +5V
GND – GND
DL2204Mk05p.ino

/* ***** Don Luc Electronics © *****
Software Version Information
Project #23: E-Textiles - ams CCS811 - Mk05
23-05
DL2204Mk05p.ino
1 x FLORA - Version 1.0a
1 x SparkFun Micro OLED
1 x SparkFun Environmental Combo CCS811/BME280
1 x RGB Smart NeoPixel
1 x Half-Size Breadboard
1 x SparkFun Cerberus USB Cable
*/

// Include the Library Code
// Wire
#include <Wire.h>
// NeoPixels
#include <Adafruit_NeoPixel.h>
// SparkFun Micro OLED
#include <SFE_MicroOLED.h>
// SparkFun BME280 - Humidity, Temperature, Altitude and Barometric Pressure
#include <SparkFunBME280.h>
// SparkFun CCS811 - eCO2 & tVOC
#include <SparkFunCCS811.h>

// NeoPixels
// On digital pin 6
#define PIN 6
// NeoPixels NUMPIXELS = 1
#define NUMPIXELS 1
// Pixels
Adafruit_NeoPixel pixels = Adafruit_NeoPixel(NUMPIXELS, PIN, NEO_GRB + NEO_KHZ800);
// Red
int red = 0;
// Green
int green = 0;
// Blue
int blue = 0;
// Neopix
int iNeo = 0;
// Value
int zz = 0;

// SparkFun Micro OLED
#define PIN_RESET 9
#define DC_JUMPER 1
// I2C declaration
MicroOLED oled(PIN_RESET, DC_JUMPER);

// SparkFun BME280 - Temperature, Humidity, Altitude and Barometric Pressure
BME280 myBME280;
// Temperature Celsius
float BMEtempC = 0;
// Humidity
float BMEhumid = 0;
// Altitude Meters
float BMEaltitudeM = 0;
// Barometric Pressure
float BMEpressure = 0;

// SparkFun CCS811 - eCO2 & tVOC
// Default I2C Address
#define CCS811_ADDR 0x5B 
CCS811 myCCS811(CCS811_ADDR);
// eCO2
float CCS811CO2 = 0;
// TVOC
float CCS811TVOC = 0;

// Software Version Information
String sver = "23-05";

void loop() {

  // SparkFun BME280 - Temperature, Humidity, Altitude and Barometric Pressure
  isBME280();

  // SparkFun CCS811 - eCO2 & tVOC
  isCCS811();

  // FLORA
  isFLORA();

  // Micro OLED
  isMicroOLED();
 
}

getBME280.ino

// SparkFun BME280 - Temperature, Humidity, Altitude and Barometric Pressure
// isBME280 - Temperature, Humidity, Altitude and Barometric Pressure
void isBME280(){

  // Temperature Celsius
  BMEtempC = myBME280.readTempC();
  // Humidity
  BMEhumid = myBME280.readFloatHumidity();
  // Altitude Meters
  BMEaltitudeM = myBME280.readFloatAltitudeMeters();
  // Barometric Pressure
  BMEpressure = myBME280.readFloatPressure();
  
}

getCCS811.ino

// CCS811 - eCO2 & tVOC
// isCCS811 - eCO2 & tVOC
void isCCS811(){

  // This sends the temperature & humidity data to the CCS811
  myCCS811.setEnvironmentalData(BMEhumid, BMEtempC);

  // Calling this function updates the global tVOC and eCO2 variables
  myCCS811.readAlgorithmResults();

  // eCO2 Concentration
  CCS811CO2 = myCCS811.getCO2();
  
  // tVOC Concentration
  CCS811TVOC = myCCS811.getTVOC();
  
}

getFLORA.ino

// FLORA
// isFLORA
void isFLORA() {

  // FLORA = Temperature Celsius
  // BMEtempC

  // FLORA = Temperature Celsius
  if ( BMEtempC >= 50 ) {

    // 40 <= Temperature Celsius < 50~~~
    zz = 2;
    isNUMPIXELS();

  } else if ( BMEtempC >= 40 ) {

    // 30 <= Temperature Celsius < 40
    zz = 3;
    isNUMPIXELS();
    
  }  else if ( BMEtempC >= 30 ) {

    // 20 <= Temperature Celsius < 30
    zz = 4;
    isNUMPIXELS();
    
  } else if ( BMEtempC >= 20 ) {

    // 10 <= Temperature Celsius < 20
    zz = 0;
    isNUMPIXELS();
    
  } else if ( BMEtempC >= 10 ) {

    // ~~~0 <= Temperature Celsius < 10
    zz = 1;
    isNUMPIXELS();
    
  }
    
}

getMicroOLED.ino

// SparkFun Micro OLED
// Setup Micro OLED
void setupMicroOLED() {

  // Initialize the OLED
  oled.begin();
  // Clear the display's internal memory
  oled.clear(ALL);
  // Display what's in the buffer (splashscreen)
  oled.display();

  // Delay 1000 ms
  delay(1000);

  // Clear the buffer.
  oled.clear(PAGE);
  
}
// Micro OLED
void isMicroOLED() {

  // Text Display BME280
  // Clear the display
  oled.clear(PAGE);
  // Set cursor to top-left
  oled.setCursor(0, 0);
  // Set font to type 0
  oled.setFontType(0);
  // Temperature Celsius
  oled.print("T: ");
  oled.print(BMEtempC);
  oled.setCursor(0, 10);
  // Humidity
  oled.print("H: ");
  oled.print(BMEhumid);
  oled.setCursor(0, 20);
  // Altitude Meters
  oled.print("A: ");
  oled.print(BMEaltitudeM);
  oled.setCursor(0, 30);
  // Barometric Pressure
  oled.print("P: ");
  oled.print(BMEpressure);
  oled.display();

  // Delay
  delay( 2000 );

  // Text Display CCS811
  // Clear the display
  oled.clear(PAGE);
  // Set cursor to top-left
  oled.setCursor(0, 0);
  // Set font to type 0
  oled.setFontType(0);
  // eCO2 Concentration
  oled.print("eCO2");
  oled.setCursor(0, 10);
  oled.print(CCS811CO2);
  // tVOC Concentration
  oled.setCursor(0, 20);
  oled.print("tVOC");
  oled.setCursor(0, 30);
  oled.print(CCS811TVOC);
  oled.display();

  // Delay
  delay( 2000 );

}

getNeopix.ino

// NeoPixels
// Neopix
void isNeopix() 
{ 

    // Pixels
    pixels.setBrightness( 150 );
    // Pixels color takes RGB values, from 0,0,0 up to 255,255,255
    pixels.setPixelColor( iNeo, pixels.Color(red,green,blue) ); 
    // This sends the updated pixel color to the hardware
    pixels.show(); 
    // Delay for a period of time (in milliseconds)
    delay(50);     
  
}
// isNUMPIXELS
void isNUMPIXELS()
{

  // Neopix Value
  switch ( zz ) {  
    case 0:
      // NeoPixels Green
      // Red
      red = 0;
      // Green
      green = 255;
      // Blue
      blue = 0;
      // Neopix
      iNeo = 0;   
      isNeopix();
      break;  
    case 1:
      // NeoPixels Blue
      // Red
      red = 0;
      // Green
      green = 0;
      // Blue
      blue = 255;
      // Neopix
      iNeo = 0;
      isNeopix();
      break;
    case 2:
      // NeoPixels Red
      // Red
      red = 255;
      // Green
      green = 0;
      // Blue
      blue = 0;
      // Neopix
      iNeo = 0;   
      isNeopix();
      break;
    case 3:
      // NeoPixels Yellow
      // Red
      red = 255;
      // Green
      green = 255;
      // Blue
      blue = 0;
      // Neopix
      iNeo = 0;
      isNeopix();
      break;
    case 4:
      // NeoPixels Magenta
      // Red
      red = 255;
      // Green
      green = 0;
      // Blue
      blue = 255;
      // Neopix
      iNeo = 0;
      isNeopix();
      break;
    case 5:
      // NeoPixels Cyan
      // Red
      red = 0;
      // Green
      green = 255;
      // Blue
      blue = 255;
      // Neopix
      iNeo = 0;
      isNeopix();
      break;
    case 6:
      // NeoPixels White
      // Red
      red = 255;
      // Green
      green = 255;
      // Blue
      blue = 255;
      // Neopix
      iNeo = 0;
      isNeopix();    
      break;
  }
  
}
// isNUMPIXELSoff
void isNUMPIXELSoff()
{

   // Black Off
   // NeoPixels
   // Red
   red = 0;
   // Green
   green = 0;
   // Blue
   blue = 0;
   isNeopix();
 
}

setup.ino

// Setup
void setup() {

  // NeoPixels
  // This initializes the NeoPixel library
  pixels.begin();
  // Delay for a period of time (in milliseconds)
  delay(50);
  // isNUMPIXELS Off
  isNUMPIXELSoff();

  // Set up I2C bus
  Wire.begin();

  // Delay for a period of time (in milliseconds)
  delay(50);
  // SparkFun BME280 - Temperature, Humidity, Altitude and Barometric Pressure
  myBME280.begin();

  // CCS811 - eCO2 & tVOC
  myCCS811.begin();

  // Setup Micro OLED
  setupMicroOLED();

}

——
People can contact us: https://www.donluc.com/?page_id=1927
Technology Experience
Single-Board Microcontrollers (PIC, Arduino, Raspberry Pi,Espressif, etc…)
IoT
Robotics
Camera and Video Capture Receiver Stationary, Wheel/Tank and Underwater Vehicle
Unmanned Vehicles Terrestrial and Marine
Research & Development (R & D)
Desktop Applications (Windows, OSX, Linux, Multi-OS, Multi-Tier, etc…)
Mobile Applications (Android, iOS, Blackberry, Windows Mobile, Windows CE, etc…)
Web Applications (LAMP, Scripting, Java, ASP, ASP.NET, RoR, Wakanda, etc…)
Social Media Programming & Integration (Facebook, Twitter, YouTube, Pinterest, etc…)
Content Management Systems (WordPress, Drupal, Joomla, Moodle, etc…)
Bulletin Boards (phpBB, SMF, Vanilla, jobberBase, etc…)
eCommerce (WooCommerce, OSCommerce, ZenCart, PayPal Shopping Cart, etc…)
Instructor and E-Mentor
IoT
PIC Microcontrollers
Arduino
Raspberry Pi
Espressif
Robotics
DOS, Windows, OSX, Linux, iOS, Android, Multi-OS
Linux-Apache-PHP-MySQL
Follow Us
J. Luc Paquin – Curriculum Vitae – 2022 English & Español
https://www.jlpconsultants.com/luc/
Web: https://www.donluc.com/
Web: https://www.jlpconsultants.com/
Facebook: https://www.facebook.com/neosteam.labs.9/
YouTube: https://www.youtube.com/channel/UC5eRjrGn1CqkkGfZy0jxEdA
Twitter: https://twitter.com/labs_steam
Pinterest: https://www.pinterest.com/NeoSteamLabs/
Instagram: https://www.instagram.com/neosteamlabs/
Don Luc