——
#DonLucElectronics #DonLuc #Sensors #ADXL335 #Adafruit #SparkFun #Arduino #Project #Fritzing #Programming #Electronics #Microcontrollers #Consultant
——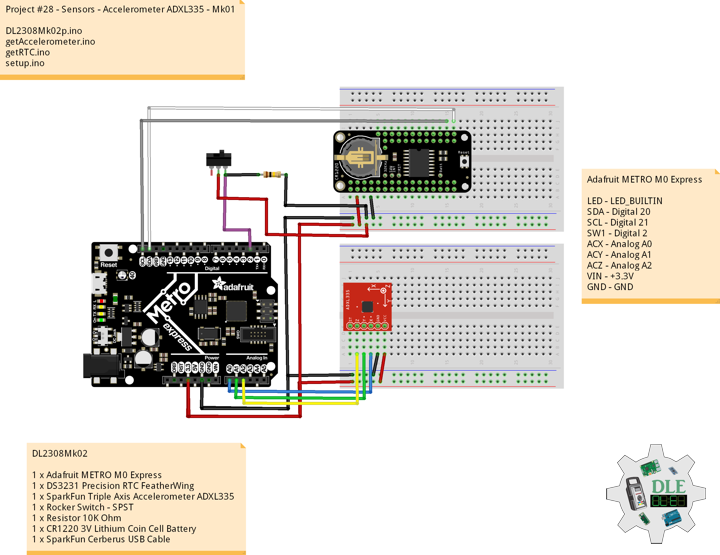 ——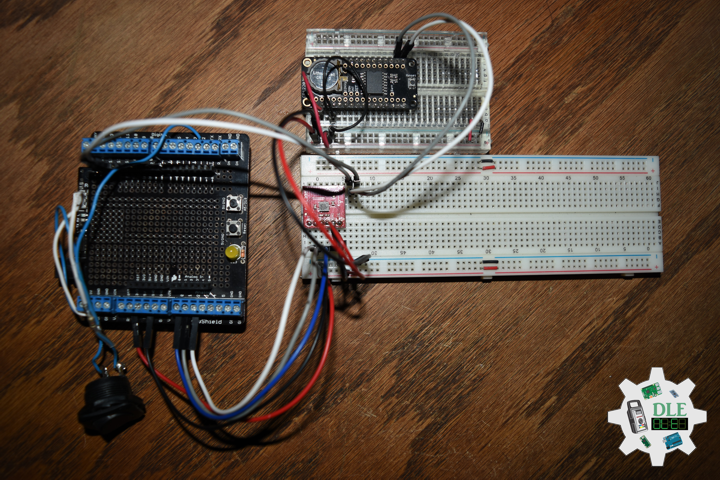 ——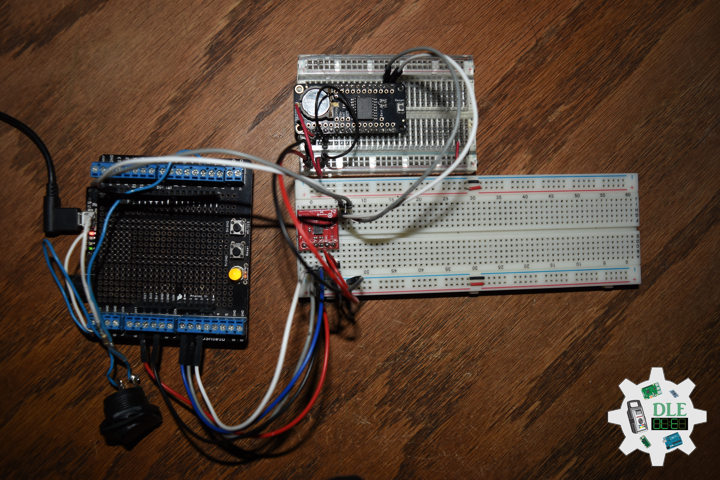 ——
Sensor
A sensor is a device that produces an output signal for the purpose of sensing a physical phenomenon. In the broadest definition, a sensor is a device, module, machine, or subsystem that detects events or changes in its environment and sends the information to other electronics, frequently a computer processor.
Acoustic, sound, vibration
Automotive
Chemical
Electric current, electric potential, magnetic, radio
Environment, weather, moisture, humidity
Flow, fluid velocity
Ionizing radiation, subatomic particles
Navigation instruments
Position, angle, displacement, distance, speed, acceleration
Optical, light, imaging, photon
Pressure
Force, density, level
Thermal, heat, temperature
Proximity, presence
Sensor technology
Speed sensor
Others
Etc…
SparkFun Triple Axis Accelerometer Breakout – ADXL335
Breakout board for the 3 axis ADXL335 from Analog Devices. This is the latest in a long, proven line of analog sensors, the holy grail of accelerometers. The ADXL335 is a triple axis MEMS accelerometer with extremely low noise and power consumption.
DL2308Mk02
1 x Adafruit METRO M0 Express
1 x DS3231 Precision RTC FeatherWing
1 x SparkFun Triple Axis Accelerometer ADXL335
1 x Rocker Switch – SPST
1 x Resistor 10K Ohm
1 x CR1220 3V Lithium Coin Cell Battery
1 x SparkFun Cerberus USB Cable
Adafruit METRO M0 Express
LED – LED_BUILTIN
SDA – Digital 20
SCL – Digital 21
SW1 – Digital 2
ACX – Analog A0
ACY – Analog A1
ACZ – Analog A2
VIN – +3.3V
GND – GND
——
DL2308Mk02p.ino

/****** Don Luc Electronics © ******
Software Version Information
Project #28 - Sensors - Accelerometer ADXL335 - Mk01
28-01
DL2308Mk02p.ino
1 x Adafruit METRO M0 Express
1 x DS3231 Precision RTC FeatherWing
1 x SparkFun Triple Axis Accelerometer ADXL335
1 x Rocker Switch - SPST
1 x Resistor 10K Ohm
1 x CR1220 3V Lithium Coin Cell Battery
1 x SparkFun Cerberus USB Cable
*/

// Include the Library Code
// DS3231 Precision RTC 
#include <RTClib.h>
// Two Wire Interface (TWI/I2C)
#include <Wire.h>
// Keyboard
#include <Keyboard.h>

// Keyboard
String sKeyboard = "";

// DS3231 Precision RTC 
RTC_DS3231 rtc;
String dateRTC = "";
String timeRTC = "";

// Accelerometer
int iX = A0;
int iY = A1;
int iZ = A2;
// Accelerometer
int X = 0;
int Y = 0;
int Z = 0;

// The number of the pushbutton pin
int iButton = 2;
// Variable for reading the pushbutton status
int buttonState = 0;

// Software Version Information
String sver = "28-01";

void loop() {

  // Date and Time RTC
  isRTC ();

  // Accelerometer
  isAccelerometer();

  // Read the state of the pushbutton value:
  buttonState = digitalRead(iButton);

  // Check if the pushbutton is pressed. If it is, the buttonState is HIGH:
  if (buttonState == HIGH) {

     Keyboard.println(sKeyboard);
    
  }

  // Delay 1 sec
  delay(1000);

}

getAccelerometer.ino

// Accelerometer
// Accelerometer
void isAccelerometer(){

  // Accelerometer X, Y, Z
  // X
  X = analogRead(iX);
  Serial.print("X: ");
  Serial.println(X);
  // Y
  Y = analogRead(iY);
  Serial.print("Y: ");
  Serial.println(Y);
  // Z
  Z = analogRead(iZ);
  Serial.print("Z: ");
  Serial.println(Z);

  sKeyboard = sKeyboard + String(X) + "|" + String(Y) + "|" + String(Z) + "|*";

}

getRTC.ino

// Date & Time
// DS3231 Precision RTC
void setupRTC() {

  // DS3231 Precision RTC
  if (! rtc.begin()) {
    Serial.println("Couldn't find RTC");
    Serial.flush();
    while (1) delay(10);
  }

  if (rtc.lostPower()) {
    Serial.println("RTC lost power, let's set the time!");
    // When time needs to be set on a new device, or after a power loss, the
    // following line sets the RTC to the date & time this sketch was compiled
    rtc.adjust(DateTime(F(__DATE__), F(__TIME__)));
    // This line sets the RTC with an explicit date & time, for example to set
    // January 21, 2014 at 3am you would call:
    //rtc.adjust(DateTime(2023, 8, 10, 11, 0, 0));
  }
  
}
// Date and Time RTC
void isRTC () {

  // Date and Time
  dateRTC = "";
  timeRTC = "";
  DateTime now = rtc.now();
  
  // Date
  dateRTC = now.year(), DEC; 
  dateRTC = dateRTC + "/";
  dateRTC = dateRTC + now.month(), DEC;
  dateRTC = dateRTC + "/";
  dateRTC = dateRTC + now.day(), DEC;

  Serial.print("Date: ");
  Serial.println(dateRTC);
  
  // Time
  timeRTC = now.hour(), DEC;
  timeRTC = timeRTC + ":";
  timeRTC = timeRTC + now.minute(), DEC;
  timeRTC = timeRTC + ":";
  timeRTC = timeRTC + now.second(), DEC;

  Serial.print("Time: ");
  Serial.println(timeRTC);

  sKeyboard = "SEN|" + sver + "|" + String(dateRTC) + "|" + 
  String(timeRTC) + "|";
  
}

setup.ino

// Setup
void setup()
{
  
  // Serial Begin
  Serial.begin(115200);
  Serial.println("Starting Serial work!");

  // Give display time to power on
  delay(100);
  
  // Wire - Inialize I2C Hardware
  Wire.begin();

  // Give display time to power on
  delay(100);

  // Date & Time RTC
  // DS3231 Precision RTC 
  setupRTC();
  
  // Initialize control over the keyboard:
  Keyboard.begin();

  // Initialize the pushbutton pin as an input
  pinMode(iButton, INPUT);

  // Initialize digital pin LED_BUILTIN as an output
  pinMode(LED_BUILTIN, OUTPUT);
  // Turn the LED on HIGH
  digitalWrite(LED_BUILTIN, HIGH);

  delay( 5000 );

}

——
People can contact us: https://www.donluc.com/?page_id=1927
Technology Experience
Programming Language
Single-Board Microcontrollers (PIC, Arduino, Raspberry Pi,Espressif, etc…)
IoT
Wireless (Radio Frequency, Bluetooth, WiFi, Etc…)
Robotics
Camera and Video Capture Receiver Stationary, Wheel/Tank and Underwater Vehicle
Unmanned Vehicles Terrestrial and Marine
Machine Learning
RTOS
Research & Development (R & D)
Instructor, E-Mentor, STEAM, and Arts-Based Training
Programming Language
IoT
PIC Microcontrollers
Arduino
Raspberry Pi
Espressif
Robotics
Follow Us
Luc Paquin – Curriculum Vitae – 2023
https://www.donluc.com/luc/
Web: https://www.donluc.com/
Facebook: https://www.facebook.com/neosteam.labs.9/
YouTube: https://www.youtube.com/@thesass2063
Twitter: https://twitter.com/labs_steam
Pinterest: https://www.pinterest.com/NeoSteamLabs/
Instagram: https://www.instagram.com/neosteamlabs/
Don Luc