——
#donluc #sound #simplekeyboard #synthesizer #mozzi #adsr #rotaryswitch #programming #arduino #fritzing #electronics #microcontrollers #consultant #vlog
——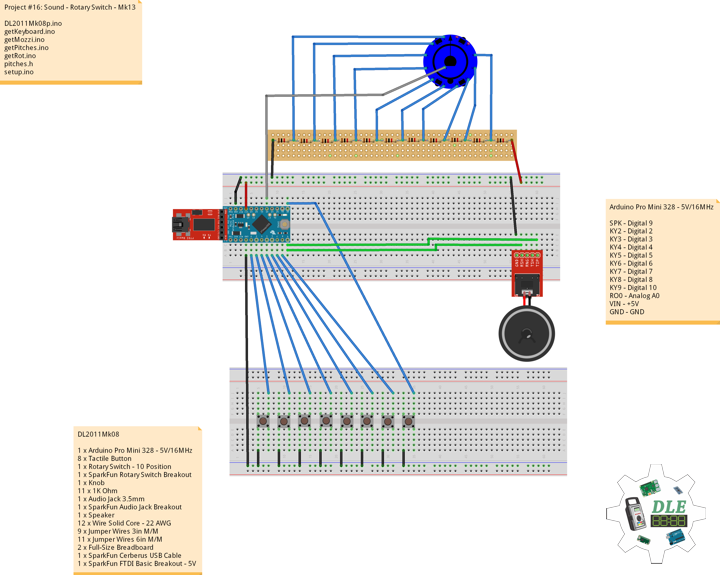 ——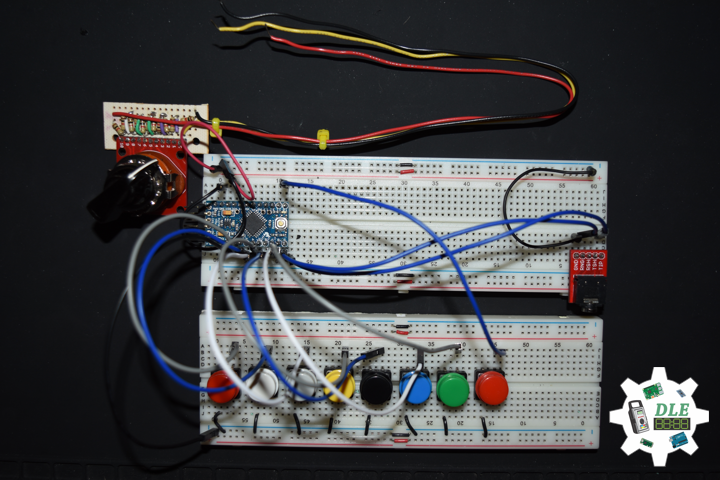 ——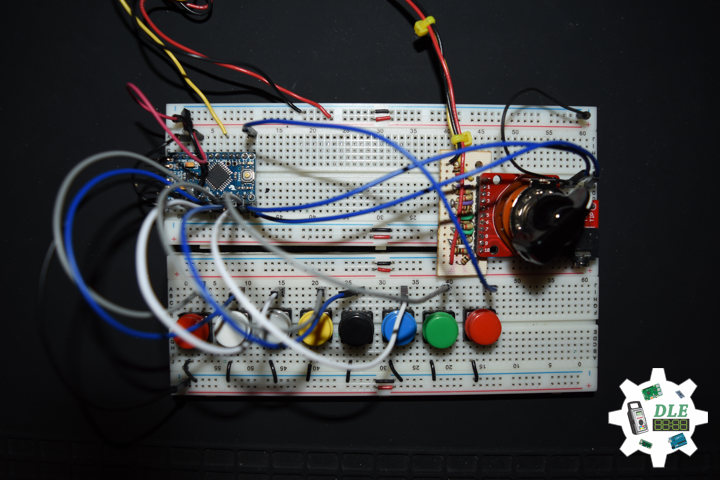 ——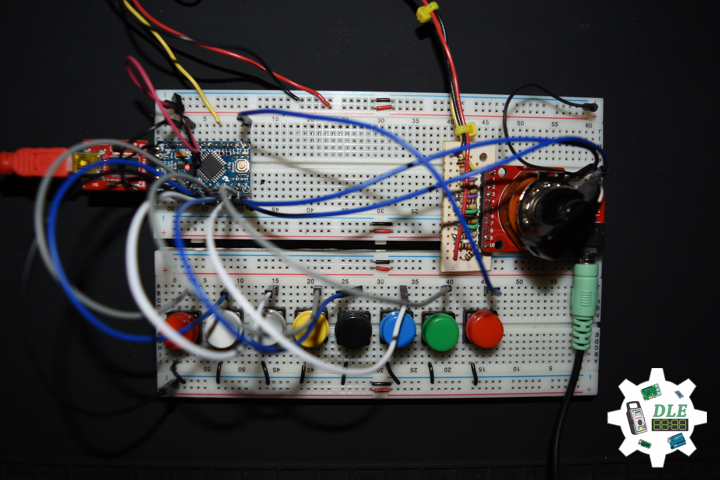 ——
Wave
In a wave is a propagating dynamic disturbance of one or more quantities, sometimes as described by a wave equation. In physical waves, at least two field quantities in the wave medium are involved. Sound waves are variations of the local pressure and particle motion that propagate through the medium.
Sine Wave
To the human ear, a sound that is made of more than one sine wave will have perceptible harmonics, addition of different sine waves results in a different waveform and thus changes the timbre of the sound. Presence of higher harmonics in addition to the fundamental causes variation in the timbre, which is the reason why the same musical note played on different instruments sounds different.
Rotary Switch – SparkFun Rotary Switch Breakout
This is a single pole, 10 position rotary switch able to select up to 10 different states in a durable package. Unlike our other rotary switch, this model is much more robust and capable of handling larger currents and voltages. Though this switch requires you to use 11 pins and is not breadboard friendly we do offer a breakout board to provide easier access to its capabilities.
This is the SparkFun Rotary Switch Breakout, a very simple board designed to easily provide you access to each pin on our 10-position rotary switches. This breakout allows you to easily add a rotary switch to your next project without having to worry about attaching its unique footprint to a custom board or solderless breadboard. All you need to do is solder the 10-position rotary switch into the breakout and each pin will become available for breadboard or hookup wire compatibility.
DL2011Mk08
1 x Arduino Pro Mini 328 – 5V/16MHz
8 x Tactile Button
1 x Rotary Switch – 10 Position
1 x SparkFun Rotary Switch Breakout
1 x Knob
11 x 1K Ohm
1 x Audio Jack 3.5mm
1 x SparkFun Audio Jack Breakout
1 x Speaker
12 x Wire Solid Core – 22 AWG
9 x Jumper Wires 3in M/M
11 x Jumper Wires 6in M/M
2 x Full-Size Breadboard
1 x SparkFun Cerberus USB Cable
1 x SparkFun FTDI Basic Breakout – 5V
Arduino Pro Mini 328 – 5V/16MHz
SPK – Digital 9
KY2 – Digital 2
KY3 – Digital 3
KY4 – Digital 4
KY5 – Digital 5
KY6 – Digital 6
KY7 – Digital 7
KY8 – Digital 8
KY9 – Digital 10
RO0 – Analog A0
VIN – +5V
GND – GND
DL2011Mk08p.ino

// ***** Don Luc Electronics © *****
// Software Version Information
// Project #16: Sound - Rotary Switch - Mk13
// 11-08
// DL2011Mk08p.ino 16-13
// 1 x Arduino Pro Mini 328 - 5V/16MHz
// 8 x Tactile Button
// 1 x Rotary Switch - 10 Position
// 1 x SparkFun Rotary Switch Breakout
// 1 x Knob
// 11 x 1K Ohm
// 1 x Audio Jack 3.5mm
// 1 x SparkFun Audio Jack Breakout
// 1 x Speaker
// 12 x Wire Solid Core - 22 AWG
// 9 x Jumper Wires 3in M/M
// 11 x Jumper Wires 6in M/M
// 2 x Full-Size Breadboard
// 1 x SparkFun Cerberus USB Cable
// 1 x SparkFun FTDI Basic Breakout - 5V

// Include the Library Code
// Pitches
#include "pitches.h"
// Mozzi
#include 
#include 
#include 
// Oscillator Tables used for output Waveshape
#include 

// Simple Keyboard
// Minimum reading of the button that generates a note
const int iKeyboard2 = 2;
const int iKeyboard3 = 3;
const int iKeyboard4 = 4;
const int iKeyboard5 = 5;
const int iKeyboard6 = 6;
const int iKeyboard7 = 7;
const int iKeyboard8 = 8;
const int iKeyboard9 = 10; 
// Button is pressed
int aa = 1;
int bb = 1;
int cc = 1;
int dd = 1;
int ee = 1;
int ff = 1;
int gg = 1;
int hh = 1;

// Frequency
int iFreg = 0;
int iNoteA = 0;
int iNoteB = 0;
int iNoteC = 0;
int iNoteD = 0;
int iNoteE = 0;
int iNoteF = 0;
int iNoteG = 0;
int iNoteAA = 0;

// Oscillator Functions declared for output envelope 1 
// Sine Wave
Oscil <2048, AUDIO_RATE> aSin1(SIN2048_DATA);

// ADSR declaration/definition
// Comment out to use default control rate of 64
#define CONTROL_RATE 128
ADSR  envelope1;

// Rotary Switch
// Number 1 => 10
int iRotNum = A0;
// iRotVal - Value 
int iRotVal = 0;
// Number
int z = 0;

// Software Version Information
String sver = "16-13";

void loop() {

  // Audio Hook
  audioHook();

}

getKeyboard.ino

// getKeyboard
// setupKeyboard
void setupKeyboard() {

  // Initialize the pushbutton pin as an input
  pinMode(iKeyboard2, INPUT_PULLUP);
  pinMode(iKeyboard3, INPUT_PULLUP);
  pinMode(iKeyboard4, INPUT_PULLUP);
  pinMode(iKeyboard5, INPUT_PULLUP);
  pinMode(iKeyboard6, INPUT_PULLUP);
  pinMode(iKeyboard7, INPUT_PULLUP);
  pinMode(iKeyboard8, INPUT_PULLUP);
  pinMode(iKeyboard9, INPUT_PULLUP);
 
}
// isKeyboard
void isKeyboard() {

  // Read the state of the pushbutton value
  if ( digitalRead(iKeyboard2) == LOW ) {

    // Button is pressed - pullup keeps pin high normally
    aa = aa + 1;
    // Rotary Switch
    isRot();
    // ADSR declaration/definition
    envelope1.noteOn();
    aSin1.setFreq( iNoteA );
    
  }
  else
  {
    
    aa = aa - 1;
    
  }    

  // Read the state of the pushbutton value
  if ( digitalRead(iKeyboard3) == LOW ) {

    // Button is pressed - pullup keeps pin high normally
    bb = bb + 1;
    // Rotary Switch
    isRot();
    // ADSR declaration/definition
    envelope1.noteOn();
    aSin1.setFreq( iNoteB );
    
  }
  else
  {
    
    bb = bb - 1;
    
  }

  // Read the state of the pushbutton value
  if ( digitalRead(iKeyboard4) == LOW ) {

    // Button is pressed - pullup keeps pin high normally
    cc = cc + 1;
    // Rotary Switch
    isRot();
    // ADSR declaration/definition
    envelope1.noteOn();
    aSin1.setFreq( iNoteC );
  
  }
  else
  {
    
    cc = cc - 1;
    
  }

  // Read the state of the pushbutton value
  if ( digitalRead(iKeyboard5) == LOW ) {

    // Button is pressed - pullup keeps pin high normally
    dd = dd + 1;
    // Rotary Switch
    isRot();
    // ADSR declaration/definition
    envelope1.noteOn();
    aSin1.setFreq( iNoteD );
      
  }
  else
  {
    
    dd = dd - 1;
    
  }
  
  // Read the state of the pushbutton value
  if ( digitalRead(iKeyboard6) == LOW ) {

    // Button is pressed - pullup keeps pin high normally
    ee = ee + 1;
    // Rotary Switch
    isRot();
    // ADSR declaration/definition
    envelope1.noteOn();
    aSin1.setFreq( iNoteE );
   
  }
  else
  {
    
    ee = ee - 1;
    
  }

  // Read the state of the pushbutton value
  if ( digitalRead(iKeyboard7) == LOW ) {

    // Button is pressed - pullup keeps pin high normally
    ff = ff + 1;
    // Rotary Switch
    isRot();
    // ADSR declaration/definition
    envelope1.noteOn();
    aSin1.setFreq( iNoteF );

  }
  else
  {
    
    ff = ff - 1;
    
  }

  // Read the state of the pushbutton value
  if ( digitalRead(iKeyboard8) == LOW ) {

    // Button is pressed - pullup keeps pin high normally
    gg = gg + 1;
    // Rotary Switch
    isRot();
    // ADSR declaration/definition
    envelope1.noteOn();
    aSin1.setFreq( iNoteG );

  }
  else
  {
    
    gg = gg - 1;
    
  }

  // Read the state of the pushbutton value
  if ( digitalRead(iKeyboard9) == LOW ) {

    // Button is pressed - pullup keeps pin high normally
    hh = hh + 1;
    // Rotary Switch
    isRot();
    // ADSR declaration/definition
    envelope1.noteOn();
    aSin1.setFreq( iNoteAA );

  }
  else
  {
    
    hh = hh - 1;
    
  }

}

getMozzi.ino

// Mozzi
// Update Control
void updateControl(){

  // Frequency
  isPitches();
  
  // Keyboard
  isKeyboard();

}
// Update Audio 
int updateAudio(){

  // ADSR declaration/definition
  envelope1.update();

  // Oscillator  
  // >>8 for AUDIO_MODE STANDARD
  return (int) (envelope1.next() * aSin1.next())>>8;

}

getPitches.ino

// Pitches
// isPitches
void isPitches(){
  
  // Range Frequency Note Low => High
  switch ( iFreg ) {
    case 1:
      // NOTE A1
      iNoteA = NOTE_A1;
      iNoteB = NOTE_B1;
      iNoteC = NOTE_C2;
      iNoteD = NOTE_D2;
      iNoteE = NOTE_E2;
      iNoteF = NOTE_F2;
      iNoteG = NOTE_G2;
      iNoteAA = NOTE_A2;
      break;
    case 2:
      // NOTE A2
      iNoteA = NOTE_A2;
      iNoteB = NOTE_B2;
      iNoteC = NOTE_C3;
      iNoteD = NOTE_D3;
      iNoteE = NOTE_E3;
      iNoteF = NOTE_F3;
      iNoteG = NOTE_G3;
      iNoteAA = NOTE_A3;
      break;
    case 3:
      // NOTE A3
      iNoteA = NOTE_A3;
      iNoteB = NOTE_B3;
      iNoteC = NOTE_C4;
      iNoteD = NOTE_D4;
      iNoteE = NOTE_E4;
      iNoteF = NOTE_F4;
      iNoteG = NOTE_G4;
      iNoteAA = NOTE_A4;
      break;
    case 4:
      // NOTE A4
      iNoteA = NOTE_A4;
      iNoteB = NOTE_B4;
      iNoteC = NOTE_C5;
      iNoteD = NOTE_D5;
      iNoteE = NOTE_E5;
      iNoteF = NOTE_F5;
      iNoteG = NOTE_G5;
      iNoteAA = NOTE_A5;
      break;
    case 5:
      // NOTE A5
      iNoteA = NOTE_A5;
      iNoteB = NOTE_B5;
      iNoteC = NOTE_C6;
      iNoteD = NOTE_D6;
      iNoteE = NOTE_E6;
      iNoteF = NOTE_F6;
      iNoteG = NOTE_G6;
      iNoteAA = NOTE_A6;
      break;
    case 6:
      // NOTE A6
      iNoteA = NOTE_A6;
      iNoteB = NOTE_B6;
      iNoteC = NOTE_C7;
      iNoteD = NOTE_D7;
      iNoteE = NOTE_E7;
      iNoteF = NOTE_F7;
      iNoteG = NOTE_G7;
      iNoteAA = NOTE_A7;
      break;
    case 7:
      // NOTE A7
      iNoteA = NOTE_A7;
      iNoteB = NOTE_B7;
      iNoteC = NOTE_C8;
      iNoteD = NOTE_D8;
      iNoteE = NOTE_E8;
      iNoteF = NOTE_F8;
      iNoteG = NOTE_G8;
      iNoteAA = NOTE_A8;
      break;
  }
  
}

getRot.ino

// Rotary Switch
// isRot - iRotVal - Value
void isRot() {

  // Rotary Switch
  z = analogRead( iRotNum );
  iRotVal = map(z, 0, 1023, 0, 9);

  // Range Value
  switch ( iRotVal ) {
    case 0:

      // Sine Wave
      // Frequency
      iFreg = 1;
      
      break;
    case 1:

      // Sine Wave
      // Frequency
      iFreg = 2;
      
      break;
    case 2:

      // Sine Wave
      // Frequency
      iFreg = 3;
      
      break;  
    case 3:

      // Sine Wave
      // Frequency
      iFreg = 4;
      
      break;
    case 4:

      // Sine Wave
      // Frequency
      iFreg = 5;
      
      break;
    case 5:

      // Sine Wave
      // Frequency
      iFreg = 6;
      
      break;       
    case 6:

      // Sine Wave
      // Frequency
      iFreg = 7;
      
      break; 
    case 7:
         
      // Z
      envelope1.noteOff();
      
     break; 
    case 8:

      // Z
      envelope1.noteOff();
     
      break;
    case 9:

      // Z
      envelope1.noteOff();
      
      break;
  }

}

pitches.h

/*****************************************************************
 * Pitches NOTE_B0 <=> NOTE_B8 - NOTE_A4 is "A" measured at 440Hz
 *****************************************************************/

#define NOTE_B0  31
#define NOTE_C1  33
#define NOTE_CS1 35
#define NOTE_D1  37
#define NOTE_DS1 39
#define NOTE_E1  41
#define NOTE_F1  44
#define NOTE_FS1 46
#define NOTE_G1  49
#define NOTE_GS1 52
#define NOTE_A1  55
#define NOTE_AS1 58
#define NOTE_B1  62
#define NOTE_C2  65
#define NOTE_CS2 69
#define NOTE_D2  73
#define NOTE_DS2 78
#define NOTE_E2  82
#define NOTE_F2  87
#define NOTE_FS2 93
#define NOTE_G2  98
#define NOTE_GS2 104
#define NOTE_A2  110
#define NOTE_AS2 117
#define NOTE_B2  123
#define NOTE_C3  131
#define NOTE_CS3 139
#define NOTE_D3  147
#define NOTE_DS3 156
#define NOTE_E3  165
#define NOTE_F3  175
#define NOTE_FS3 185
#define NOTE_G3  196
#define NOTE_GS3 208
#define NOTE_A3  220
#define NOTE_AS3 233
#define NOTE_B3  247
#define NOTE_C4  262
#define NOTE_CS4 277
#define NOTE_D4  294
#define NOTE_DS4 311
#define NOTE_E4  330
#define NOTE_F4  349
#define NOTE_FS4 370
#define NOTE_G4  392
#define NOTE_GS4 415
#define NOTE_A4  440
#define NOTE_AS4 466
#define NOTE_B4  494
#define NOTE_C5  523
#define NOTE_CS5 554
#define NOTE_D5  587
#define NOTE_DS5 622
#define NOTE_E5  659
#define NOTE_F5  698
#define NOTE_FS5 740
#define NOTE_G5  784
#define NOTE_GS5 831
#define NOTE_A5  880
#define NOTE_AS5 932
#define NOTE_B5  988
#define NOTE_C6  1047
#define NOTE_CS6 1109
#define NOTE_D6  1175
#define NOTE_DS6 1245
#define NOTE_E6  1319
#define NOTE_F6  1397
#define NOTE_FS6 1480
#define NOTE_G6  1568
#define NOTE_GS6 1661
#define NOTE_A6  1760
#define NOTE_AS6 1865
#define NOTE_B6  1976
#define NOTE_C7  2093
#define NOTE_CS7 2217
#define NOTE_D7  2349
#define NOTE_DS7 2489
#define NOTE_E7  2637
#define NOTE_F7  2794
#define NOTE_FS7 2960
#define NOTE_G7  3136
#define NOTE_GS7 3322
#define NOTE_A7  3520
#define NOTE_AS7 3729
#define NOTE_B7  3951
#define NOTE_C8  4186
#define NOTE_CS8 4435
#define NOTE_D8  4699
#define NOTE_DS8 4978
#define NOTE_E8  5274
#define NOTE_F8  5588
#define NOTE_FS8 5920
#define NOTE_G8  6272
#define NOTE_GS8 6645
#define NOTE_A8  7040
#define NOTE_AS8 7459
#define NOTE_B8  7902

setup.ino

// Setup
void setup() {

  // Setup Keyboard
  setupKeyboard();
  
  // Start Mozzi
  startMozzi( CONTROL_RATE );
  // Sets Attack and Decay Levels; assumes Sustain, Decay, and Idle times
  envelope1.setADLevels(200,200);
  // Sets Decay time in milliseconds
  envelope1.setDecayTime(100);
  // Sustain Time setting for envelope1
  envelope1.setSustainTime(32500); 
  
}

Sounds
https://www.donluc.com/DLE/sounds.html
Technology Experience
Single-Board Microcontrollers (PIC, Arduino, Raspberry Pi,Espressif, etc…)
Robotics
Research & Development (R & D)
Desktop Applications (Windows, OSX, Linux, Multi-OS, Multi-Tier, etc…)
Mobile Applications (Android, iOS, Blackberry, Windows Mobile, Windows CE, etc…)
Web Applications (LAMP, Scripting, Java, ASP, ASP.NET, RoR, Wakanda, etc…)
Social Media Programming & Integration (Facebook, Twitter, YouTube, Pinterest, etc…)
Content Management Systems (WordPress, Drupal, Joomla, Moodle, etc…)
Bulletin Boards (phpBB, SMF, Vanilla, jobberBase, etc…)
eCommerce (WooCommerce, OSCommerce, ZenCart, PayPal Shopping Cart, etc…)
Instructor
PIC Microcontrollers
Arduino
Raspberry Pi
Espressif
Robotics
DOS, Windows, OSX, Linux, iOS, Android, Multi-OS
Linux-Apache-PHP-MySQL
Follow Us
J. Luc Paquin – Curriculum Vitae
https://www.donluc.com/DLE/LucPaquinCVEngMk2020a.pdf
Web: https://www.donluc.com/
Web: http://www.jlpconsultants.com/
Web: https://www.donluc.com/DLE/
Web: https://www.donluc.com/DLHackster/
Web: https://www.hackster.io/neosteam-labs
Facebook: https://www.facebook.com/neosteam.labs.9/
YouTube: https://www.youtube.com/channel/UC5eRjrGn1CqkkGfZy0jxEdA
Twitter: https://twitter.com/labs_steam
Pinterest: https://www.pinterest.com/NeoSteamLabs/
Instagram: https://www.instagram.com/neosteamlabs/
Don Luc