EasyDriver
——
#DonLucElectronics #DonLuc #Robotics #Arduino #Fio #XBee #Stepper #EasyDriver #Project #Fritzing #Programming #Electronics #Microcontrollers #Consultant
——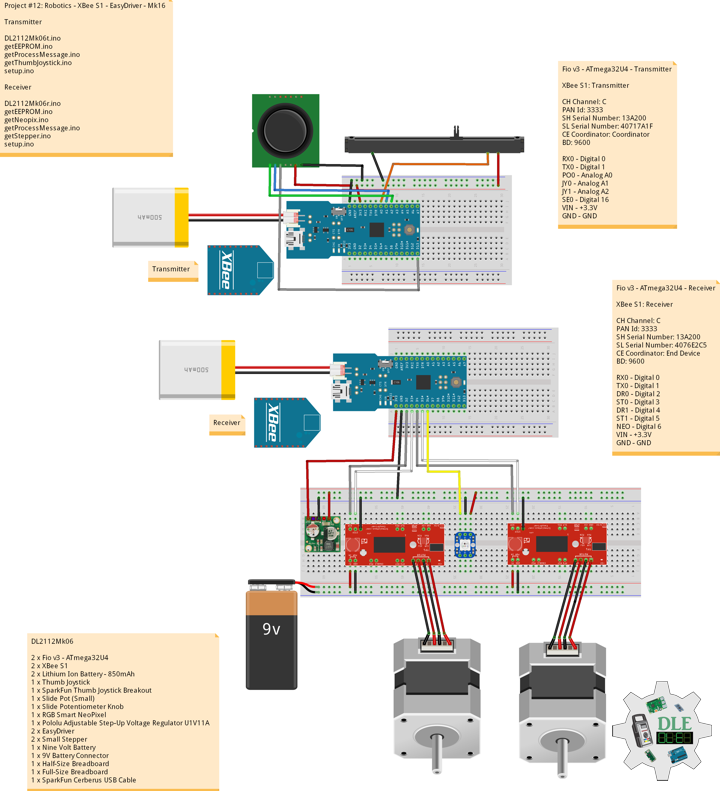 ——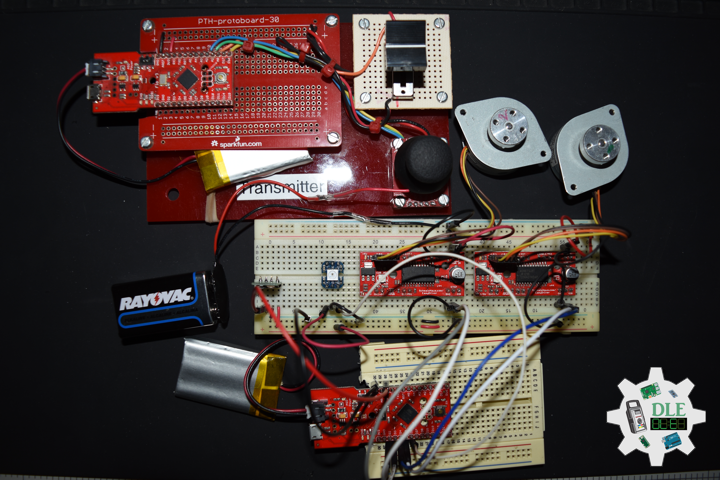 ——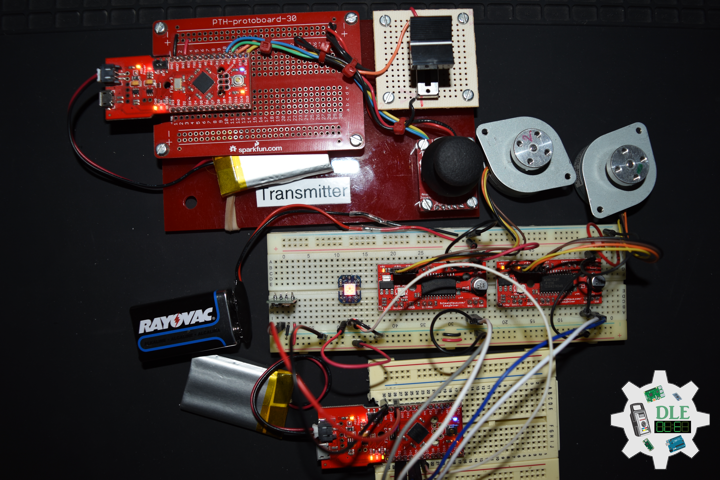 ——
Stepper Motor
A stepper motor, also known as step motor or stepping motor, is a brushless DC electric motor that divides a full rotation into a number of equal steps. The motor's position can be commanded to move and hold at one of these steps without any position sensor for feedback, as long as the motor is correctly sized to the application in respect to torque and speed. Switched reluctance motors are very large stepping motors with a reduced pole count, and generally are closed-loop commutated.
EasyDriver – Stepper Motor Driver
The EasyDriver is a simple to use stepper motor driver, compatible with anything that can output a digital 0 to 5V pulse. The EasyDriver requires a 6V to 30V supply to power the motor and can power any voltage of stepper motor. The EasyDriver has an on board voltage regulator for the digital interface that can be set to 5V. Connect a 4-wire stepper motor and a microcontroller and you've got precision motor control! EasyDriver drives bi-polar motors, and motors wired as bi-polar.
DL2112Mk06
2 x Fio v3 – ATmega32U4
2 x XBee S1
2 x Lithium Ion Battery – 850mAh
1 x Thumb Joystick
1 x SparkFun Thumb Joystick Breakout
1 x Slide Pot (Small)
1 x Slide Potentiometer Knob
1 x RGB Smart NeoPixel
1 x Pololu Adjustable Step-Up Voltage Regulator U1V11A
2 x EasyDriver
2 x Small Stepper
1 x Nine Volt Battery
1 x 9V Battery Connector
1 x Half-Size Breadboard
1 x Full-Size Breadboard
1 x SparkFun Cerberus USB Cable
Fio v3 – ATmega32U4 – Transmitter
XBee S1: Transmitter
CH Channel: C
PAN Id: 3333
SH Serial Number: 13A200
SL Serial Number: 40717A1F
CE Coordinator: Coordinator
BD: 9600
RX0 – Digital 0
TX0 – Digital 1
PO0 – Analog A0
JY0 – Analog A1
JY1 – Analog A2
SE0 – Digital 16
VIN – +3.3V
GND – GND
DL2112Mk06t.ino

/* ***** Don Luc Electronics © *****
Software Version Information
Project #12: Robotics - XBee S1 - Transmitter - Mk16
12-06
DL2112Mk06t.ino
1 x Fio v3 - ATmega32U4
1 x XBee S1
1 x Lithium Ion Battery - 850mAh
1 x Thumb Joystick
1 x SparkFun Thumb Joystick Breakout
1 x Slide Pot (Small)
1 x Slide Potentiometer Knob
1 x SparkFun Cerberus USB Cable
*/

// Include the Library Code
// EEPROM library to read and write EEPROM with unique ID for unit
#include <EEPROM.h>

// Communication
unsigned long dTime = 200;

// Slide Pot (Small)
// Select the input pin for the slide pot
// Power
const int iSP1 = A0;
// Power to store the value
int iPower = 0;

// Connections to joystick
// Vertical
const int VERT = A1;
// Horizontal
const int HORIZ = A2;
// Pushbutton
const int SEL = 16;
// Initialize variables for analog and digital values
int vertical;
int horizontal;
int select;

// Software Version Information
// Version
String sver = "12-16t";
// Unit ID Information
// UID
String uid = "";

void loop()
{

  // Thumb Joystick
  isThumbJoystick();
    
  // Process Message
  isProcessMessage();

  delay( dTime );
  
}

getEEPROM.ino

// EEPROM
// is UID
void isUID()
{
  
  // Is Unit ID
  // UID
  uid = "";
  for (int x = 0; x < 5; x++)
  {
    uid = uid + char(EEPROM.read(x));
  }
  
}

getProcessMessage.ino

// Process Message
// isProcessMessage
void isProcessMessage() {
  
   // Loop through serial buffer
   // Print = "<" + vertical + "|" + horizontal + "|" + select + "|" + iValue + "|" + sver + "|" + uid + "*"
      
   Serial1.print( '<'  );
   Serial1.print( vertical );
   Serial1.print( '|' );
   Serial1.print( horizontal );
   Serial1.print( '|' );
   Serial1.print( select );
   Serial1.print( '|' );
   Serial1.print( iPower );
   Serial1.print( '|' );
   Serial1.print( sver );
   Serial1.print( '|' );
   Serial1.print( uid );
   Serial1.println( '*' );

}

getThumbJoystick.ino

// Thumb Joystick
void isThumbJoystick() {

  // Read all values from the joystick
  // Joystick was sitting around 520 for the vertical and horizontal values
  // Will be 0-1023
  vertical = analogRead(VERT);
  // Will be 0-1023
  horizontal = analogRead(HORIZ);
  // Will be HIGH (1) if not pressed, and LOW (0) if pressed
  select = digitalRead(SEL);
  // Read the value
  // Power be 0-1023
  iPower = analogRead( iSP1 );
 
}

setup.ino

// Setup
void setup()
{

  // EEPROM Unit ID
  isUID();
  
  // Pause
  delay(5);
  
  // Make the SEL line an input
  pinMode(SEL, INPUT_PULLUP);
  
  // Open Serial1 port at 9600 baud
  Serial1.begin( 9600 );

  // Pause
  delay(5);

}

——
Fio v3 – ATmega32U4 – Receiver
XBee S1: Receiver
CH Channel: C
PAN Id: 3333
SH Serial Number: 13A200
SL Serial Number: 4076E2C5
CE Coordinator: End Device
BD: 9600
RX0 – Digital 0
TX0 – Digital 1
DR0 – Digital 2
ST0 – Digital 3
DR1 – Digital 4
ST1 – Digital 5
NEO – Digital 6
VIN – +3.3V
GND – GND
DL2112Mk06r.ino

/* ***** Don Luc Electronics © *****
Software Version Information
Project #12: Robotics - EasyDriver - Mk16
12-06
DL2112Mk06r.ino
1 x Fio v3 - ATmega32U4
1 x XBee S1
1 x Lithium Ion Battery - 850mAh
1 x RGB Smart NeoPixel
1 x Pololu Adjustable Step-Up Voltage Regulator U1V11A
2 x EasyDriver
2 x Small Stepper
1 x Nine Volt Battery
1 x 9V Battery Connector
1 x Half-Size Breadboard
1 x Full-Size Breadboard
1 x SparkFun Cerberus USB Cable
*/

// Include the library code:
// EEPROM library to read and write EEPROM with unique ID for unit
#include <EEPROM.h>
// NeoPixels
#include <Adafruit_NeoPixel.h>

// 2 x EasyDriver - 2 x Stepper
// EasyDriver Right
int dirPinR = 2;
// stepPin Right
int stepPinR = 3;
// EasyDriver Left
int dirPinL = 4;
// stepPin Left
int stepPinL = 5;
// Microsteps
int i = 0;
// Power be 0-1023
int iPower = 0;
String POW = "";
// Joystick was sitting around 520 for the vertical and horizontal values
// Will be 0-1023
// Vertical
int vertical;
String VER = "";
// Horizontal
// Will be 0-1023
int horizontal;
String HOR = "";
// Select
// Will be HIGH (1) if not pressed, and LOW (0) if pressed
int select;
String SEL = "";
int firstClosingBracket = 0;
// Map Vertical and Horizontal
int mapVer = 0;
int mapHor = 0;
int iVer = 0;
int iHor = 0;

// NeoPixels
// On digital pin 6
#define PIN 6
// NeoPixels NUMPIXELS = 1
#define NUMPIXELS 1
// Pixels
Adafruit_NeoPixel pixels = Adafruit_NeoPixel(NUMPIXELS, PIN, NEO_GRB + NEO_KHZ800);
// Red
int red = 0;
// Green
int green = 0;
// Blue
int blue = 0;
// Neopix
int iNeo = 0;
// Value
int zz = 0;

// Process Message
// Start
bool bStart = false;
// End
bool bEnd   = false;
// Variable to store the incoming byte
int incb = 0;
// Message
String msg = "";
// Index
byte in = 0;
int x = 0;

// Software Version Information
String sver = "12-16r";
// Unit ID information
String uid = "";

void loop() {

  // Check for serial messages
  isProcessMessage();

}

getEEPROM.ino

// EEPROM
// isUID
void isUID()
{
  
  // Is Unit ID
  uid = "";
  for (int x = 0; x < 5; x++)
  {
    uid = uid + char(EEPROM.read(x));
  }
  
}

getNeopix.ino

// NeoPixels
// Neopix
void isNeopix() 
{ 

    // Pixels
    pixels.setBrightness( 130 );
    // Pixels color takes RGB values, from 0,0,0 up to 255,255,255
    pixels.setPixelColor( iNeo, pixels.Color(red,green,blue) ); 
    // This sends the updated pixel color to the hardware
    pixels.show(); 
    // Delay for a period of time (in milliseconds)
    delay(50);     
  
}
// isNUMPIXELS
void isNUMPIXELS()
{

  // Neopix Value
  switch ( zz ) {  
    case 0:
      // NeoPixels Green
      // Red
      red = 0;
      // Green
      green = 255;
      // Blue
      blue = 0;
      // Neopix
      iNeo = 0;   
      isNeopix();
      break;  
    case 1:
      // NeoPixels Blue
      // Red
      red = 0;
      // Green
      green = 0;
      // Blue
      blue = 255;
      // Neopix
      iNeo = 0;
      isNeopix();
      break;
    case 2:
      // NeoPixels Red
      // Red
      red = 255;
      // Green
      green = 0;
      // Blue
      blue = 0;
      // Neopix
      iNeo = 0;   
      isNeopix();
      break;
    case 3:
      // NeoPixels Yellow
      // Red
      red = 255;
      // Green
      green = 255;
      // Blue
      blue = 0;
      // Neopix
      iNeo = 0;
      isNeopix();
      break;
    case 4:
      // NeoPixels Magenta
      // Red
      red = 255;
      // Green
      green = 0;
      // Blue
      blue = 255;
      // Neopix
      iNeo = 0;
      isNeopix();
      break;
    case 5:
      // NeoPixels Cyan
      // Red
      red = 0;
      // Green
      green = 255;
      // Blue
      blue = 255;
      // Neopix
      iNeo = 0;
      isNeopix();
      break;
    case 6:
      // NeoPixels White
      // Red
      red = 255;
      // Green
      green = 255;
      // Blue
      blue = 255;
      // Neopix
      iNeo = 0;
      isNeopix();    
      break;
  }
  
}
// isNUMPIXELSoff
void isNUMPIXELSoff()
{

   // Black Off
   // NeoPixels
   // Red
   red = 0;
   // Green
   green = 0;
   // Blue
   blue = 0;
   isNeopix();
 
}

getProcessMessage.ino

// ProcessMessage
// isProcessMessage
void isProcessMessage() {

  // Loop through serial buffer one byte at a time until you reach * which will be end of message
  while ( Serial1.available() > 0 ) 
  {
      
      // Read the incoming byte:
      incb = Serial1.read();
      
      // Start the message when the '<' symbol is received
      if(incb == '<')
      {

        // Start
        bStart = true;
        in = 0;
        msg = "";
        
      }
      // End the message when the '*' symbol is received
      else if(incb == '*')
      {
        
        // End
        bEnd = true;
        x = msg.length();
        msg.remove( x , 1);
        // Done reading
        
        break;
      }
      // Read the message
      else
      {
        
        // Message
        msg = msg + char(incb);
        in++;

      }
      
   }

   // Start - End
   if( bStart && bEnd)
   {

      // isStepper => Message
      isStepper();
      
      // Start - End
      in = 0;
      msg = "";
      bStart = false;
      bEnd = false;
      vertical;
      horizontal;
      iPower;
      
   }

}

getStepper.ino

// Stepper
// isStepperSetup
void isStepperSetup() {

  // 2 x EasyDriver
  pinMode(dirPinR, OUTPUT);
  pinMode(stepPinR, OUTPUT);
  pinMode(dirPinL, OUTPUT);
  pinMode(stepPinL, OUTPUT);

}
// isStepper
void isStepper() {

  // msg = vertical + "|" + horizontal + "|" + select + "|" + iValue + "|" + sver + "|" + uid
  firstClosingBracket = 0;
  // Vertical
  firstClosingBracket = msg.indexOf('|');
  VER = msg;
  VER.remove(firstClosingBracket);
  vertical = VER.toInt();
  // Horizontal
  firstClosingBracket = firstClosingBracket + 1;
  msg.remove(0, firstClosingBracket );
  firstClosingBracket = msg.indexOf('|');
  HOR = msg;
  HOR.remove(firstClosingBracket);
  horizontal = HOR.toInt();
  // Select
  firstClosingBracket = firstClosingBracket + 1;
  msg.remove(0, firstClosingBracket );  
  firstClosingBracket = msg.indexOf('|');
  SEL = msg;
  SEL.remove(firstClosingBracket);
  select = SEL.toInt();
  // Power
  firstClosingBracket = firstClosingBracket + 1;
  msg.remove(0, firstClosingBracket );    
  firstClosingBracket = msg.indexOf('|');
  POW = msg;
  POW.remove(firstClosingBracket);
  iPower = POW.toInt();

  // EasyDriver Right
  // Set the direction
  // Joystick was sitting around 520 for the vertical and horizontal values
  // Will be 0-1023
  mapVer = map(vertical, 0, 1023, -512, 512);
  mapHor = map(horizontal, 0, 1023, -512, 512);
  
  // Vertical and Horizontal 
  if ( mapVer == -512 ) {

    // Horizontal 
    if ( mapHor == -512 ) {

      // Left
      // NeoPixels Yellow
      zz = 3;
      isNUMPIXELS();
      iVer = 3;
    
    } else if ( mapHor == 512 ) {

      // Right
      // NeoPixels Magenta
      zz = 4;
      isNUMPIXELS();
      iVer = 4;
 
    } else {

      // Down
      // NeoPixels Blue
      zz = 1;
      isNUMPIXELS();
      iVer = 1;
    
    }
    
  } else if ( mapVer == 512 ) {

    // Horizontal 
    if ( mapHor == -512 ) {

      // Left
      // NeoPixels Yellow
      zz = 3;
      isNUMPIXELS();
      iVer = 3;
    
    } else if ( mapHor == 512 ) {

      // Right
      // NeoPixels Magenta
      zz = 4;
      isNUMPIXELS();
      iVer = 4;
 
    } else {

      // Up
      // NeoPixels Green
      zz = 0;
      isNUMPIXELS();
      iVer = 4;
      iVer = 2;
    
    }
 
  } else if ( mapHor == -512 ) {

      // Left
      // NeoPixels Yellow
      zz = 3;
      isNUMPIXELS();
      iVer = 3;
    
  } else if ( mapHor == 512 ) {

      // Right
      // NeoPixels Magenta
      zz = 4;
      isNUMPIXELS();
      iVer = 4;
 
  } else {

    // Stop
    // NeoPixels Red
    zz = 2;
    isNUMPIXELS();
    iVer = 5;
    
  }

  // XBee Car
  switch ( iVer ) {
    case 1:

      // 2 x EasyDriver - Up
      // Set the direction LOW
      digitalWrite(dirPinR, LOW);
      delay(5);
      digitalWrite(dirPinL, LOW);
      delay(5);

      break;
    case 2:

      // Stepper 2 - Back
      // Set the direction HIGH
      digitalWrite(dirPinR, HIGH);
      delay(5);
      digitalWrite(dirPinL, HIGH);
      delay(5);

      break;
    case 3:

      // Stepper 3 - Right
      digitalWrite(dirPinR, LOW);
      delay(5);
      digitalWrite(dirPinL, HIGH);
      delay(5);

      break;
    case 4:

      // Stepper 4 - Left
      digitalWrite(dirPinR, HIGH);
      delay(5);
      digitalWrite(dirPinL, LOW);
      delay(5);
      break;
    case 5:

      // Stop
      // NeoPixels Red
      zz = 2;
      isNUMPIXELS();
      iVer = 5;
      break;
    default:
    
      // Stop
      // NeoPixels Red
      zz = 2;
      isNUMPIXELS();
      iVer = 5;
      
  }

  if ( iVer == 5 ) {

    // Stepper Stop
    // 2 x EasyDriver
    // Set the direction
    digitalWrite(dirPinR, LOW);
    delay(5);
    // Set the direction
    digitalWrite(dirPinL, LOW);
    delay(5);
    // This LOW
    digitalWrite(stepPinR, LOW);
    digitalWrite(stepPinL, LOW);
    
  } else {

     // Iterate for 200 microsteps
     for (i = 0; i<200; i++)
     { 

        // This LOW to HIGH change is what creates the
        digitalWrite(stepPinR, LOW);
        // "Rising Edge" so the easydriver knows to when to step.
        digitalWrite(stepPinR, HIGH);
        // This delay time is close to top speed.
        delayMicroseconds(iPower);
        // This LOW to HIGH change is what creates the
        digitalWrite(stepPinL, LOW);
        // "Rising Edge" so the easydriver knows to when to step.
        digitalWrite(stepPinL, HIGH);
        // This delay time is close to top speed.
        delayMicroseconds(iPower);

     }
    
  }
 
}

setup.ino

// Setup
void setup() {

  // Open the serial port at 9600 bps:
  Serial1.begin( 9600 );

  // Pause
  delay(5);

  // EEPROM Unit ID
  isUID();
  
  // Pause
  delay(5);

  // 2 x EasyDriver
  isStepperSetup();

  // Pause
  delay(5);
  
  // NeoPixels
  // This initializes the NeoPixel library
  pixels.begin();
  // Delay for a period of time (in milliseconds)
  delay(50);
  // isNUMPIXELS Off
  isNUMPIXELSoff();

}

——
People can contact us: https://www.donluc.com/?page_id=1927
Technology Experience
Single-Board Microcontrollers (PIC, Arduino, Raspberry Pi,Espressif, etc…)
IoT
Robotics
Camera and Video Capture Receiver Stationary, Wheel/Tank and Underwater Vehicle
Unmanned Vehicles Terrestrial and Marine
Research & Development (R & D)
Desktop Applications (Windows, OSX, Linux, Multi-OS, Multi-Tier, etc…)
Mobile Applications (Android, iOS, Blackberry, Windows Mobile, Windows CE, etc…)
Web Applications (LAMP, Scripting, Java, ASP, ASP.NET, RoR, Wakanda, etc…)
Social Media Programming & Integration (Facebook, Twitter, YouTube, Pinterest, etc…)
Content Management Systems (WordPress, Drupal, Joomla, Moodle, etc…)
Bulletin Boards (phpBB, SMF, Vanilla, jobberBase, etc…)
eCommerce (WooCommerce, OSCommerce, ZenCart, PayPal Shopping Cart, etc…)
Instructor and E-Mentor
IoT
PIC Microcontrollers
Arduino
Raspberry Pi
Espressif
Robotics
DOS, Windows, OSX, Linux, iOS, Android, Multi-OS
Linux-Apache-PHP-MySQL
Follow Us
J. Luc Paquin – Curriculum Vitae – 2021 English & Español
https://www.jlpconsultants.com/luc/
Web: https://www.donluc.com/
Web: https://www.jlpconsultants.com/
Facebook: https://www.facebook.com/neosteam.labs.9/
YouTube: https://www.youtube.com/channel/UC5eRjrGn1CqkkGfZy0jxEdA
Twitter: https://twitter.com/labs_steam
Pinterest: https://www.pinterest.com/NeoSteamLabs/
Instagram: https://www.instagram.com/neosteamlabs/
Don Luc