——
#DonLucElectronics #DonLuc #Time #RTC #Display #Adalogger #MicroSD #GPSReceiver #CCS811 #BME280 #Arduino #ESP32 #SparkFunESP32WROOM #Project #Programming #Electronics #Microcontrollers #Consultant #VideoBlog
——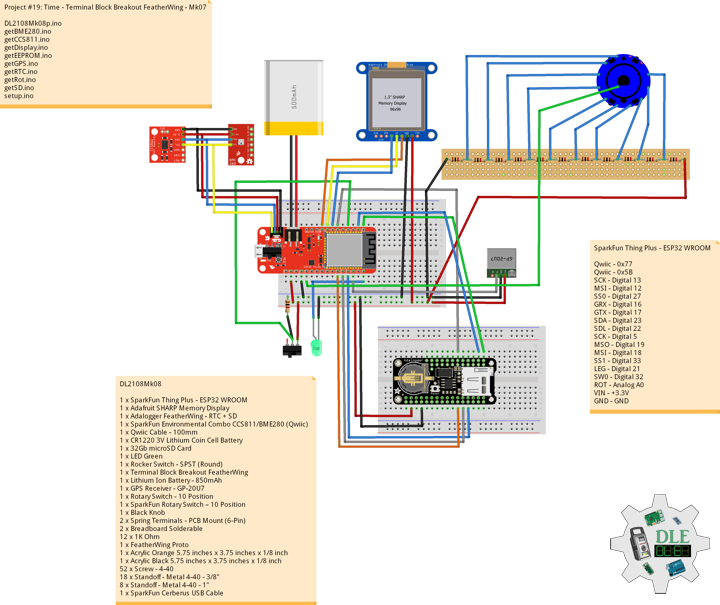 ——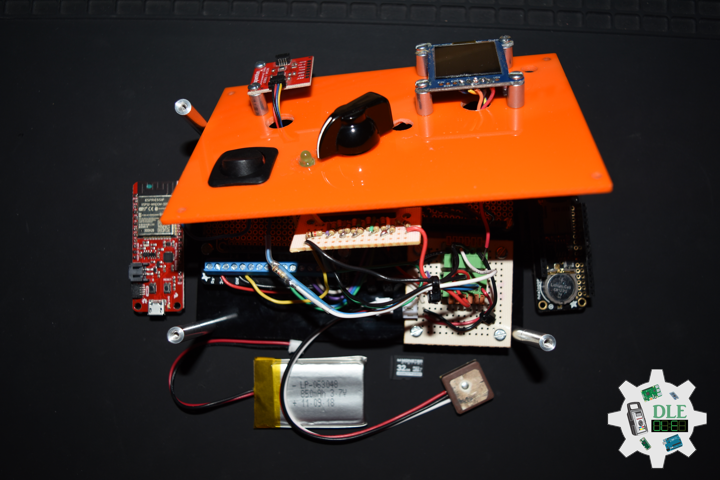 ——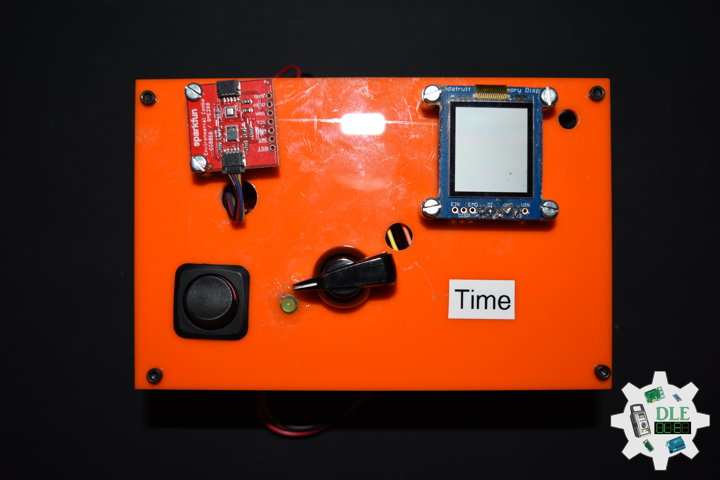 ——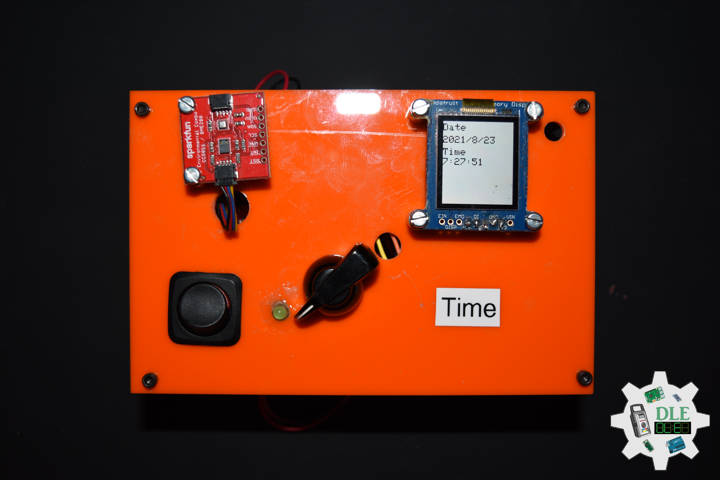 ——
Terminal Block Breakout FeatherWing
The Terminal Block Breakout FeatherWing kit is like the of prototyping FeatherWings. To start, you get a nice prototyping area underneath your Feather, with extra pads for ground, 3.3V and SDA/SCL. There's also four mounting holes so you can attach the breakout to your enclosure or project.
This product works with all our Feathers. The terminal blocks allow you to connect to any of the external Feather pins, great for wiring temporary or permanent installations. We also give you a few extra terminal block pins for ground and 3.3V connections since those are so useful.
FeatherWing Proto
This is the FeatherWing Proto – a prototyping add-on for all Feather boards. This has a duplicate breakout for each pin on a Feather, as well as a bunch of plain grid proto holes. For GND and 3.3V, we give you a strip of connected pads. There's plenty of room for buttons, indicator LEDs, or anything for your portable project. The FeatherWing Proto makes an ideal partner for any of our Feather boards.
DL2108Mk08
1 x SparkFun Thing Plus – ESP32 WROOM
1 x Adafruit SHARP Memory Display
1 x Adalogger FeatherWing – RTC + SD
1 x SparkFun Environmental Combo CCS811/BME280 (Qwiic)
1 x Qwiic Cable – 100mm
1 x CR1220 3V Lithium Coin Cell Battery
1 x 32Gb microSD Card
1 x LED Green
1 x Rocker Switch – SPST (Round)
1 x Terminal Block Breakout FeatherWing
1 x Lithium Ion Battery – 850mAh
1 x GPS Receiver – GP-20U7
1 x Rotary Switch – 10 Position
1 x SparkFun Rotary Switch – 10 Position
1 x Black Knob
2 x Spring Terminals – PCB Mount (6-Pin)
2 x Breadboard Solderable
12 x 1K Ohm
1 x FeatherWing Proto
1 x Acrylic Orange 5.75 inches x 3.75 inches x 1/8 inch
1 x Acrylic Black 5.75 inches x 3.75 inches x 1/8 inch
52 x Screw – 4-40
18 x Standoff – Metal 4-40 – 3/8″
8 x Standoff – Metal 4-40 – 1″
1 x SparkFun Cerberus USB Cable
SparkFun Thing Plus – ESP32 WROOM
Qwiic – 0x77
Qwiic – 0x5B
SCK – Digital 13
MSI – Digital 12
SS0 – Digital 27
GRX – Digital 16
GTX – Digital 17
SDA – Digital 23
SDL – Digital 22
SCK – Digital 5
MSO – Digital 19
MSI – Digital 18
SS1 – Digital 33
LEG – Digital 21
SW0 – Digital 32
ROT – Analog A0
VIN – +3.3V
GND – GND
——
DL2108Mk08p.ino

/* 
***** Don Luc Electronics © *****
Software Version Information
Project #19: Time - Terminal Block Breakout FeatherWing - Mk07
08-07
DL2108Mk07p.ino
1 x SparkFun Thing Plus - ESP32 WROOM
1 x Adafruit SHARP Memory Display
1 x Adalogger FeatherWing - RTC + SD
1 x SparkFun Environmental Combo CCS811/BME280 (Qwiic)
1 x CR1220 3V Lithium Coin Cell Battery
1 x 32Gb microSD Card
1 x LED Green
1 x Rocker Switch - SPST (Round)
1 x Terminal Block Breakout FeatherWing
1 x Lithium Ion Battery - 850mAh
1 x GPS Receiver - GP-20U7
1 x Rotary Switch - 10 Position
1 x SparkFun Rotary Switch – 10 Position
1 x Black Knob
2 x Spring Terminals - PCB Mount (6-Pin)
2 x Breadboard Solderable
12 x 1K Ohm
1 x FeatherWing Proto
1 x Acrylic Orange 5.75 inches x 3.75 inches x 1/8 inch
1 x Acrylic Black 5.75 inches x 3.75 inches x 1/8 inch
52 x Screw - 4-40
18 x Standoff - Metal 4-40 - 3/8"
8 x Standoff - Metal 4-40 - 1"
1 x SparkFun Cerberus USB Cable
*/

// Include the Library Code
// EEPROM Library to Read and Write EEPROM with Unique ID for Unit
#include "EEPROM.h"
// Wire
#include <Wire.h>
// SHARP Memory Display
#include <Adafruit_SharpMem.h>
#include <Adafruit_GFX.h>
// Date and time RTC
#include "RTClib.h"
// GPS Receiver
#include <TinyGPS++.h>
// ESP32 Hardware Serial
#include <HardwareSerial.h>
// SD Card
#include "FS.h"
#include "SD.h"
#include "SPI.h"
// SparkFun CCS811 - eCO2 & tVOC
#include <SparkFunCCS811.h>
// SparkFun BME280 - Humidity, Temperature, Altitude and Barometric Pressure
#include <SparkFunBME280.h>

// SHARP Memory Display
#define SHARP_SCK  13
#define SHARP_MOSI 12
#define SHARP_SS   27
// Set the size of the display here, e.g. 144x168!
Adafruit_SharpMem display(SHARP_SCK, SHARP_MOSI, SHARP_SS, 144, 168);
// The currently-available SHARP Memory Display (144x168 pixels)
// requires > 4K of microcontroller RAM; it WILL NOT WORK on Arduino Uno
// or other <4K "classic" devices.
#define BLACK 0
#define WHITE 1

// Date and Time
// PCF8523 Precision RTC 
RTC_PCF8523 rtc;
// Date
String dateRTC = "";
// Time
String timeRTC = "";

// ESP32 HardwareSerial
HardwareSerial tGPS(2);

// GPS Receiver
#define gpsRXPIN 16
// This one is unused and doesnt have a conection
#define gpsTXPIN 17
// The TinyGPS++ object
TinyGPSPlus gps;
// Latitude
float TargetLat;
// Longitude
float TargetLon;
// GPS Date, Time, Speed, Altitude
// GPS Date
String TargetDat;
// GPS Time
String TargetTim;
// GPS Speeds M/S
String TargetSMS;
// GPS Speeds Km/h
String TargetSKH;
// GPS Altitude Meters
String TargetALT;
// GPS Status
String GPSSt = "";

// Rotary Switch - 10 Position
// Number 1 => 10
int iRotNum = A0;
// iRotVal - Value 
int iRotVal = 0;
// Number
int z = 0;

// MicroSD Card
const int chipSelect = 33;
String zzzzzz = "";

// LED Green
int iLEDGreen = 21;

// Rocker Switch - SPST (Round)
int iSS1 = 32;
// State
int iSS1State = 0;

// SparkFun CCS811 - eCO2 & tVOC
// Default I2C Address
#define CCS811_ADDR 0x5B 
CCS811 myCCS811(CCS811_ADDR);
// eCO2
float CCS811CO2 = 0;
// TVOC
float CCS811TVOC = 0;

// SparkFun BME280 - Humidity, Temperature, Altitude and Barometric Pressure
BME280 myBME280;
// Temperature Celsius
float BMEtempC = 0;
// Humidity
float BMEhumid = 0;
// Altitude Meters
float BMEaltitudeM = 0;
// Barometric Pressure
float BMEpressure = 0;

// Software Version Information
// EEPROM Unique ID Information
#define EEPROM_SIZE 64
String uid = "";
// Version
String sver = "19-07";

void loop()
{
     
  // Dates and Time
  isRTC();

  // isGPS
  isGPS();

  // SparkFun BME280 - Humidity, Temperature, Altitude and Barometric Pressure
  isBME280();

  // SparkFun CCS811 - eCO2 & tVOC
  isCCS811();

  // Rotary Switch
  isRot();

  // Slide Switch
  // Read the state of the iSS1 value
  iSS1State = digitalRead(iSS1);
  
  // If it is the Slide Switch State is HIGH
  if (iSS1State == HIGH) {

    // iLEDGreen HIGH
    digitalWrite(iLEDGreen,  HIGH );
    
    // MicroSD Card
    isSD();

  } else {

    // iLEDGreen LOW
    digitalWrite(iLEDGreen,  LOW );
  
  }

  delay( 1000 );
 
}

getBME280.ino

// SparkFun BME280 - Humidity, Temperature, Altitude and Barometric Pressure
// isBME280 - Humidity, Temperature, Altitude and Barometric Pressure
void isBME280(){

  // Temperature Celsius
  BMEtempC = myBME280.readTempC();
  // Humidity
  BMEhumid = myBME280.readFloatHumidity();
  // Altitude Meters
  BMEaltitudeM = (myBME280.readFloatAltitudeMeters(), 2);
  // Barometric Pressure
  BMEpressure = myBME280.readFloatPressure();
  
}

getCCS811.ino

// CCS811 - eCO2 & tVOC
// isCCS811 - eCO2 & tVOC
void isCCS811(){

  // This sends the temperature & humidity data to the CCS811
  myCCS811.setEnvironmentalData(BMEhumid, BMEtempC);

  // Calling this function updates the global tVOC and eCO2 variables
  myCCS811.readAlgorithmResults();

  // eCO2 Concentration
  CCS811CO2 = myCCS811.getCO2();
  
  // tVOC Concentration
  CCS811TVOC = myCCS811.getTVOC();
  
}

getDisplay.ino

// SHARP Memory Display
// SHARP Memory Display - UID
void isDisplayUID() {

    // Text Display 
    // Clear Display
    display.clearDisplay();
    display.setRotation(4);
    display.setTextSize(3);
    display.setTextColor(BLACK);
    // Don Luc Electronics
    display.setCursor(0,10);
    display.println( "Don Luc" );
    display.setTextSize(2);
    display.setCursor(0,40);
    display.println( "Electronics" );
    // Version
    //display.setTextSize(3);
    display.setCursor(0,70);
    display.println( "Version" );
    //display.setTextSize(2);
    display.setCursor(0,95);   
    display.println( sver );
    // EEPROM
    display.setCursor(0,120);
    display.println( "EEPROM" );
    display.setCursor(0,140);   
    display.println( uid );
    // Refresh
    display.refresh();
    delay( 100 );
    
}
// Display Date
void isDisplayDate() {

    // Text Display Date
    // Clear Display
    display.clearDisplay();
    display.setRotation(4);
    display.setTextSize(2);
    display.setTextColor(BLACK);
    // Date
    display.setCursor(0,5);
    display.println( "Date" );
    display.setCursor(0,30);
    display.println( dateRTC );
    // Time
    display.setCursor(0,55);
    display.println( "Time" );
    display.setCursor(0,75);
    display.println( timeRTC );
    // Refresh
    display.refresh();
    delay( 100 );

}
// Display GPS
void isDisplayGPS() {

    // Text Display Date
    // Clear Display
    display.clearDisplay();
    display.setRotation(4);
    display.setTextSize(2);
    display.setTextColor(BLACK);
    // GPS Status
    display.setCursor(0,5);
    display.print( "GPS: " );
    display.println( GPSSt );
    // Target Latitude
    display.setCursor(0,25);
    display.println( "Latitude" );
    display.setCursor(0,45);
    display.println( TargetLat );
    // Target Longitude
    display.setCursor(0,65);
    display.println( "Longitude" );
    display.setCursor(0,90);
    display.println( TargetLon );
    // Refresh
    display.refresh();
    delay( 100 );

}
// GPS Date, Time, Speed, Altitude
void isDisplayGPSDate() {

    // Text Display Date
    // Clear Display
    display.clearDisplay();
    display.setRotation(4);
    display.setTextSize(2);
    display.setTextColor(BLACK);
    // GPS
    display.setCursor(0,5);
    display.println( "GPS" );
    // Date
    display.setCursor(0,30);
    display.println( TargetDat );
    // Time
    display.setCursor(0,55);
    display.println( TargetTim );
    // Speed
    display.setCursor(0,75);
    display.print( "M/S: " );
    display.println( TargetSMS );
    display.setCursor(0,95);
    display.print( "Km/h: " );
    display.println( TargetSKH );
    display.setCursor(0,115);
    display.print( "Alt: " );
    display.println( TargetALT );
    // Refresh
    display.refresh();
    delay( 100 );

}
// Display BME280 - Humidity, Temperature, Altitude and Barometric Pressure
void isDisplayBME280() {

     // Text Display BME280
    // Clear Display
    display.clearDisplay();
    display.setRotation(4);
    display.setTextSize(2);
    display.setTextColor(BLACK);
    // Temperature Celsius
    display.setCursor(0,10);
    display.println( "Temperature" );
    display.setCursor(0,30);
    display.print( BMEtempC );
    display.println( " C" );
    // Humidity
    display.setCursor(0,50);
    display.println( "Humidity" );
    display.setCursor(0,70);
    display.print( BMEhumid );
    display.println( "%" );
    // Altitude Meters
    display.setCursor(0,90);
    display.println( "Altitude M" );
    display.setCursor(0,110);
    display.print( BMEaltitudeM );
    display.println( " m" );
    // Pressure
    display.setCursor(0,130);    
    display.println( "Barometric" );
    display.setCursor(0,150);
    display.print( BMEpressure );
    display.println( "Pa" );
    // Refresh
    display.refresh();
    delay( 100 );

}
// Display CCS811 - eCO2 & tVOC
void isDisplayCCS811() {

    // Text Display CCS811
    // Clear Display
    display.clearDisplay();
    display.setRotation(4);
    display.setTextSize(2);
    display.setTextColor(BLACK);
    // eCO2 Concentration
    display.setCursor(0,10);
    display.println( "eCO2" );
    display.setCursor(0,30);
    display.print( CCS811CO2 );
    display.println( " ppm" );
    // tVOC Concentration
    display.setCursor(0,60);
    display.println( "tVOC" );
    display.setCursor(0,80);
    display.print( CCS811TVOC );
    display.println( " ppb" );
    // Refresh
    display.refresh();
    delay( 100 );

}
// Display Z
void isDisplayZ() {
    // Text Display Z
    // Clear Display
    display.clearDisplay();
    display.setRotation(4);
    display.setTextSize(3);
    display.setTextColor(BLACK);
    // Z
    display.setCursor(0,10);
    display.print( "Z: " );
    display.println( z );
    // Refresh
    display.refresh();
    delay( 100 );
}

getEEPROM.ino

// EEPROM
// isUID EEPROM Unique ID
void isUID()
{
  
  // Is Unit ID
  uid = "";
  for (int x = 0; x < 5; x++)
  {
    uid = uid + char(EEPROM.read(x));
  }
  
}

getGPS.ino

// GPS Receiver
// Setup GPS
void setupGPS() {

  // Setup GPS
  tGPS.begin(  9600 , SERIAL_8N1 , gpsRXPIN , gpsTXPIN );
  
}
// isGPS
void isGPS(){

  // Receives NEMA data from GPS receiver
  // This sketch displays information every time a new sentence is correctly encoded
  while ( tGPS.available() > 0)
    
    if (gps.encode( tGPS.read() ))
    {
     
       // GPS Vector Pointer Target
       displayInfo();
       // GPS Date, Time, Speed, Altitude
       displayDTS();
       
    }
  
  if (millis() > 5000 && gps.charsProcessed() < 10)
  {
   
     while(true);
    
  }

}
// GPS Vector Pointer Target
void displayInfo(){

  // Location
  if (gps.location.isValid())
  {
    
     // Latitude
     TargetLat = gps.location.lat();
     // Longitude
     TargetLon = gps.location.lng();
     // GPS Status 2
     GPSSt = "Yes";
    
  }
  else
  {

     // GPS Status 0
     GPSSt = "No";
    
  }

}
// GPS Date, Time, Speed, Altitude
void displayDTS(){

  // Date
  TargetDat = ""; 
  if (gps.date.isValid())
  {
    
     // Date
     // Year
     TargetDat += String(gps.date.year(), DEC);
     TargetDat += "/";
     // Month
     TargetDat += String(gps.date.month(), DEC);
     TargetDat += "/";
     // Day
     TargetDat += String(gps.date.day(), DEC);
    
  }

  // Time
  TargetTim = "";
  if (gps.time.isValid())
  {
    
     // Time
     // Hour
     TargetTim += String(gps.time.hour(), DEC);
     TargetTim += ":";
     // Minute
     TargetTim += String(gps.time.minute(), DEC);
     TargetTim += ":";
     // Secound
     TargetTim += String(gps.time.second(), DEC);
    
  }

  // Speed
  TargetSMS = "";
  TargetSKH = "";
  if (gps.speed.isValid())
  {
    
     // Speed
     // M/S
     int x = gps.speed.mps();
     TargetSMS = String( x, DEC);
     // Km/h
     int y = gps.speed.kmph();
     TargetSKH = String( y, DEC);

  }

  // Altitude
  TargetALT = "";
  if (gps.altitude.isValid())
  {
    
     // Altitude
     // Meters
     int z = gps.altitude.meters();
     TargetALT = String( z, DEC);

  }
  
}

getRTC.ino

// Date & Time
// PCF8523 Precision RTC
void setupRTC() {

  // Date & Time
  // pcf8523 Precision RTC   
  if (! rtc.begin()) {
    while (1);
  }  
  
  if (! rtc.initialized()) {
    
    // Following line sets the RTC to the date & time this sketch was compiled
    rtc.adjust(DateTime(F(__DATE__), F(__TIME__)));
    // This line sets the RTC with an explicit date & time, for example to set
    // January 21, 2014 at 3am you would call:
    // rtc.adjust(DateTime(2014, 1, 21, 3, 0, 0));
    // rtc.adjust(DateTime(2021, 8, 18, 8, 48, 0));
    
  }
  
}
// Date and Time RTC PCF8523
void isRTC () {

  // Date and Time
  dateRTC = "";
  timeRTC = "";
  DateTime now = rtc.now();
  
  // Date
  // Year
  dateRTC = now.year(), DEC; 
  dateRTC = dateRTC + "/";
  // Month
  dateRTC = dateRTC + now.month(), DEC;
  dateRTC = dateRTC + "/";
  // Day
  dateRTC = dateRTC + now.day(), DEC;
  
  // Time
  // Hour
  timeRTC = now.hour(), DEC;
  timeRTC = timeRTC + ":";
  // Minute
  timeRTC = timeRTC + now.minute(), DEC;
  timeRTC = timeRTC + ":";
  // Second
  timeRTC = timeRTC + now.second(), DEC;
  
}

getRot.ino

// Rotary Switch
// isRot - iRotVal - Value
void isRot() {
  
  // Rotary Switch
  z = analogRead( iRotNum );
  
  // Rotary Switch - 10 Position
  // Number 1 => 10
  if ( z >= 3600 ) {

    // Z
    iRotVal = 10;
    
  } else if ( z >= 3200 ) {

    // Z
    iRotVal = 9;
    
  } else if ( z >= 2700 ) {

    // Z
    iRotVal = 8;
    
  } else if ( z >= 2400 ) {

    // Z
    iRotVal = 7;
    
  } else if ( z >= 2000 ) {

    // Z
    iRotVal = 6;
    
  } else if ( z >= 1600 ) {

    // Z
    iRotVal = 5;
    
  } else if ( z >= 1200 ) {

    // Z
    iRotVal = 4;
    
  } else if ( z >= 900 ) {

    // Z
    iRotVal = 3;
    
  } else if ( z >= 500 ) {

    // Z
    iRotVal = 2;
    
  } else {

    // Z
    iRotVal = 1;
    
  }

  // Range Value
  switch ( iRotVal ) {
    case 1:

      // Display Date, Time
      isDisplayDate();
       
      break;
    case 2:

      // Display GPS
      isDisplayGPS();
         
      break;
    case 3:

      // GPS Date, Time, Speed, Altitude
      //isDisplayGPSDate();
      
      break;  
    case 4:
      
      // GPS Display Date, Time, Speed
      isDisplayGPSDate();
      
      break;
    case 5:
      
      // Display BME280
      isDisplayBME280();
      
      break;
    case 6:
      
      // Display CCS811 - eCO2 & tVOC
      isDisplayCCS811();
      
      break;       
    case 7:

      // Z
      isDisplayZ();
      
      break; 
    case 8:
         
      // Z
      isDisplayZ();
      
      break; 
    case 9:
      
      // Z
      isDisplayZ();
      
      break;
    case 10:

      // Z
      isDisplayZ();
      
      break;
  }
  
}

getSD.ino

// MicroSD Card
// MicroSD Setup
void setupSD() {

    // MicroSD Card
    pinMode( chipSelect , OUTPUT );
    if(!SD.begin( chipSelect )){
        ;  
        return;
    }
    
    uint8_t cardType = SD.cardType();

    // CARD NONE
    if(cardType == CARD_NONE){
        ; 
        return;
    }

    // SD Card Type
    if(cardType == CARD_MMC){
        ; 
    } else if(cardType == CARD_SD){
        ; 
    } else if(cardType == CARD_SDHC){
        ; 
    } else {
        ; 
    } 

    // Size
    uint64_t cardSize = SD.cardSize() / (1024 * 1024);
 
}
// MicroSD Card
void isSD() {

  zzzzzz = "";

  // EEPROM Unique ID|Version|Date|Time|GPS Status|Target Latitude|Target Longitude|GPS Date|GPS Time|GPS Speed M/S|GPS Speed Km/h|GPS Altitude|Temperature Celsius|Humidity|Altitude Meters|Barometric Pressure|eCO2 Concentration|tVOC Concentration|\r
  zzzzzz = uid + "|" + sver + "|" + dateRTC + "|" + timeRTC + "|" + GPSSt + "|" + TargetLat + "|" + TargetLon + "|" + TargetDat + "|" + TargetTim + "|" + TargetSMS + "|" + TargetSKH + "|" + TargetALT  + "|" + BMEtempC + "|" + BMEhumid + "|" + BMEaltitudeM + "|" + BMEpressure + "|" + CCS811CO2 + "|" + CCS811TVOC +  + "|\r";

  // msg + 1
  char msg[zzzzzz.length() + 1];

  zzzzzz.toCharArray(msg, zzzzzz.length() + 1);

  // Append File
  appendFile(SD, "/espdata.txt", msg );
  
}
// List Dir
void listDir(fs::FS &fs, const char * dirname, uint8_t levels){
    
    // List Dir
    dirname;
    
    File root = fs.open(dirname);
    
    if(!root){
        return;
    }
    
    if(!root.isDirectory()){
        return;
    }

    File file = root.openNextFile();
    
    while(file){
        if(file.isDirectory()){
            file.name();
            if(levels){
                listDir(fs, file.name(), levels -1);
            }
        } else {
            file.name();
            file.size();
        }
        file = root.openNextFile();
    }
    
}
// Write File
void writeFile(fs::FS &fs, const char * path, const char * message){
    
    // Write File
    path;
    
    File file = fs.open(path, FILE_WRITE);
    
    if(!file){
        return;
    }
    
    if(file.print(message)){
        ;  
    } else {
        ;  
    }
    
    file.close();
    
}
// Append File
void appendFile(fs::FS &fs, const char * path, const char * message){
    
    // Append File
    path;
    
    File file = fs.open(path, FILE_APPEND);
    
    if(!file){
        return;
    }
    
    if(file.print(message)){
        ;  
    } else {
        ;  
    }
    
    file.close();
    
}

setup.ino

// Setup
void setup()
{
  
  // EEPROM Size
  EEPROM.begin(EEPROM_SIZE);
  
  // EEPROM Unique ID
  isUID();
  
  // GPS Receiver
  // Setup GPS
  setupGPS();

  // Set up I2C bus
  Wire.begin();

  // SparkFun BME280 - Humidity, Temperature, Altitude and Barometric Pressure
  myBME280.begin();
  
  // CCS811 - eCO2 & tVOC
  myCCS811.begin();
  
  // SHARP Display Start & Clear the Display
  display.begin();
  // Clear Display
  display.clearDisplay();

  // Date & Time RTC
  // PCF8523 Precision RTC
  isDisplayUID();
  
  // Setup RTC
  setupRTC();

  //MicroSD Card
  setupSD();

  // Initialize the LED Green
  pinMode(iLEDGreen, OUTPUT);

  // Slide Switch
  pinMode(iSS1, INPUT);

  delay( 5000 );
  
}

——
People can contact us: https://www.donluc.com/?page_id=1927
Technology Experience
Single-Board Microcontrollers (PIC, Arduino, Raspberry Pi,Espressif, etc…)
IoT
Robotics
Research & Development (R & D)
Desktop Applications (Windows, OSX, Linux, Multi-OS, Multi-Tier, etc…)
Mobile Applications (Android, iOS, Blackberry, Windows Mobile, Windows CE, etc…)
Web Applications (LAMP, Scripting, Java, ASP, ASP.NET, RoR, Wakanda, etc…)
Social Media Programming & Integration (Facebook, Twitter, YouTube, Pinterest, etc…)
Content Management Systems (WordPress, Drupal, Joomla, Moodle, etc…)
Bulletin Boards (phpBB, SMF, Vanilla, jobberBase, etc…)
eCommerce (WooCommerce, OSCommerce, ZenCart, PayPal Shopping Cart, etc…)
Instructor
PIC Microcontrollers
Arduino
Raspberry Pi
Espressif
Robotics
DOS, Windows, OSX, Linux, iOS, Android, Multi-OS
Linux-Apache-PHP-MySQL
Follow Us
J. Luc Paquin – Curriculum Vitae – 2021 English & Español
https://www.jlpconsultants.com/CV/LucPaquinCVEngMk2021c.pdf
https://www.jlpconsultants.com/CV/LucPaquinCVEspMk2021c.pdf
Web: https://www.donluc.com/
Web: https://www.jlpconsultants.com/
Web: https://www.donluc.com/DLE/
Web: https://www.donluc.com/DLHackster/
Web: https://www.hackster.io/neosteam-labs
Web: https://zoom.us/
Patreon: https://www.patreon.com/DonLucElectronics
Facebook: https://www.facebook.com/neosteam.labs.9/
YouTube: https://www.youtube.com/channel/UC5eRjrGn1CqkkGfZy0jxEdA
Twitter: https://twitter.com/labs_steam
Pinterest: https://www.pinterest.com/NeoSteamLabs/
Instagram: https://www.instagram.com/neosteamlabs/
Don Luc