——
#donluc #sound #simplekeyboard #synthesizer #programming #arduino #fritzing #electronics #microcontrollers #consultant #vlog
——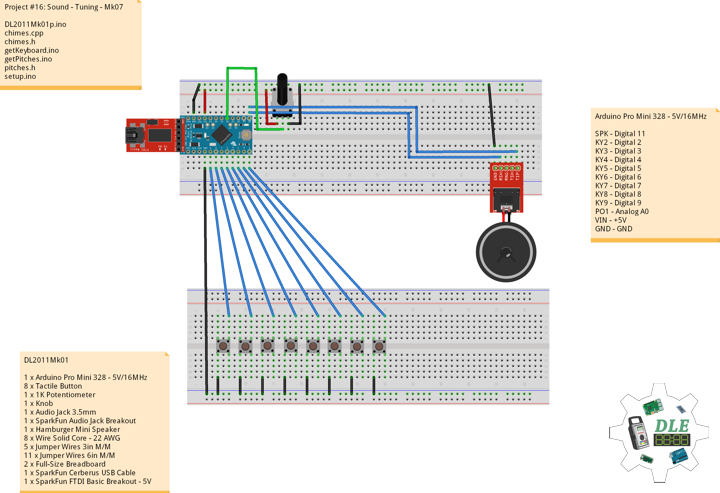 ——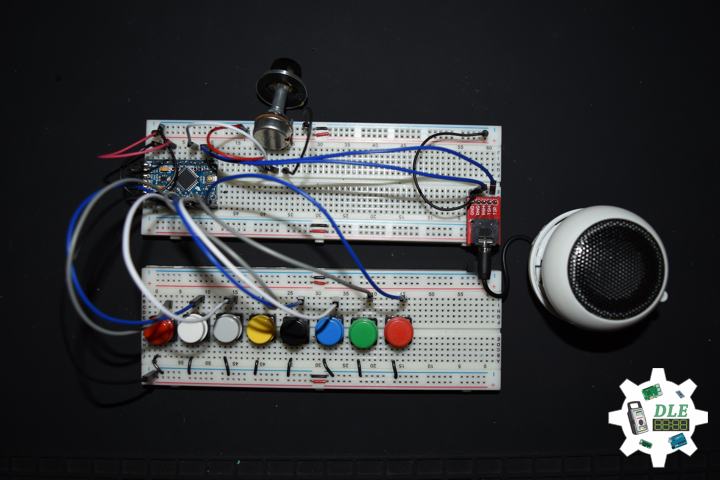 ——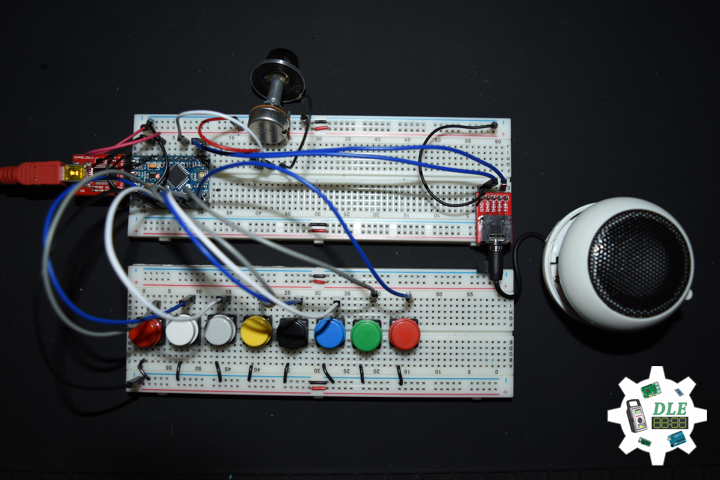 ——
Tuning
Frequencies for equal-tempered scale. The pitches the frequencies of the twelve notes between note A, and note A one octave up from it. Higher pitched notes have larger frequency steps between them, but each step makes an equal change to difference in pitch (one semitone) that we perceive. The piano keyboard is one of the classic ways of viewing the Chromatic scale. Also, the whole pattern of note names repeats after every seven white notes.
There are two main properties of a regular vibration, the amplitude and the frequency, which affect the way it sounds. Amplitude is the size of the vibration, and this determines how loud the sound is. We have already seen that larger vibrations make a louder sound. It is also the origin of the word amplifier, a device which increases the amplitude of a waveform. Frequency is the speed of the vibration, and this determines the pitch of the sound. It is only useful or meaningful for musical sounds, where there is a strongly regular waveform.
Arduino
This simple keyboard how to use the to generate different pitches depending on which button is pressed. A potentiometer is a simple mechanical device that provides a varying amount of resistance when its shaft is turned. By passing voltage through a potentiometer and into an analog input on your board, it is possible to measure the amount of resistance produced by a potentiometer as an analog value. Re-maps a number from one range to another. That is, a value of from Low would get mapped to Low, a value of from High to High. Range Frequency Note Low => Note High. Read the state of the pushbutton value, Low a frequency of High.
DL2011Mk01
1 x Arduino Pro Mini 328 – 5V/16MHz
8 x Tactile Button
1 x 1K Potentiometer
1 x Knob
1 x Audio Jack 3.5mm
1 x SparkFun Audio Jack Breakout
1 x Hamburger Mini Speaker
8 x Wire Solid Core – 22 AWG
5 x Jumper Wires 3in M/M
11 x Jumper Wires 6in M/M
2 x Full-Size Breadboard
1 x SparkFun Cerberus USB Cable
1 x SparkFun FTDI Basic Breakout – 5V
Arduino Pro Mini 328 – 5V/16MHz
SPK – Digital 11
KY2 – Digital 2
KY3 – Digital 3
KY4 – Digital 4
KY5 – Digital 5
KY6 – Digital 6
KY7 – Digital 7
KY8 – Digital 8
KY9 – Digital 9
PO1 – Analog A0
VIN – +5V
GND – GND
DL2011Mk01p.ino

// ***** Don Luc Electronics © *****
// Software Version Information
// Project #16: Sound - Tuning - Mk07
// 11-01
// DL2011Mk01p.ino 16-07
// 1 x Arduino Pro Mini 328 - 5V/16MHz
// 8 x Tactile Button
// 1 x 1K Potentiometer
// 1 x Knob
// 1 x Audio Jack 3.5mm
// 1 x SparkFun Audio Jack Breakout
// 1 x Hamburger Mini Speaker
// 8 x Wire Solid Core - 22 AWG
// 5 x Jumper Wires 3in M/M
// 11 x Jumper Wires 6in M/M
// 2 x Full-Size Breadboard
// 1 x SparkFun Cerberus USB Cable
// 1 x SparkFun FTDI Basic Breakout - 5V

// Include the Library Code
// Pitches
#include "pitches.h"
// Waveform - Chimes
#include "chimes.h"
using namespace Chimes;
// Sum of ADSR values must not exceed 100%
uint8_t envelope[] = {
  0,  // Attack[%]
  20, // Decay[%]
  0,  // Sustain[%]
  80, // Release[%]
  16  // Sustain Level 1..32
};

// Simple Keyboard
// Minimum reading of the button that generates a note
const int iKeyboard2 = 2;
const int iKeyboard3 = 3;
const int iKeyboard4 = 4;
const int iKeyboard5 = 5;
const int iKeyboard6 = 6;
const int iKeyboard7 = 7;
const int iKeyboard8 = 8;
const int iKeyboard9 = 9; 
// Button is pressed
int aa = 1;
int bb = 1;
int cc = 1;
int dd = 1;
int ee = 1;
int ff = 1;
int gg = 1;
int hh = 1;

// Frequency
int iCap = A0;
int iFreg = 0;
int iNoteA = 0;
int iNoteB = 0;
int iNoteC = 0;
int iNoteD = 0;
int iNoteE = 0;
int iNoteF = 0;
int iNoteG = 0;
int iNoteAA = 0;

// Software Version Information
String sver = "16-07";

void loop() {

  // Frequency
  isPitches();
  
  // Keyboard
  isKeyboard();
  
}

chimes.cpp

/*This work is licensed under the Creative Commons Attribution-ShareAlike 4.0 International License. 
To view a copy of this license, visit https://creativecommons.org/licenses/by-sa/4.0/deed.en */

#include 
#include "chimes.h"

#define ISR_CYCLE 16 //16s

char strbuf[255];
uint16_t ADSR_default[] = {0, 0, 100, 0, MAX_VOLUME};
uint16_t ADSR_env[5];
uint16_t nSamples; //Number of samples in Array
uint8_t adsrPhase;
uint32_t tPeriod;
uint8_t *samples; //Array with samples
uint8_t *_envelope, _waveform, _duty_cycle;
uint16_t &_sustain_lvl = ADSR_env[4];

enum ADSR_phase
{
	ATTACK,
	DECAY,
	SUSTAIN,
	RELEASE
};

namespace Chimes
{
void init(uint8_t waveform, uint8_t duty_cycle, uint8_t *envelope)
{
	Serial.begin(115200);
	//PWM Signal generation
	DDRB |= (1 << PB3) + (1 << PB0);				  //OC2A, Pin 11
	TCCR2A = (1 << WGM21) + (1 << WGM20);			  //Fast PWM
	TCCR2A |= (0 << COM2A0) + (1 << COM2A1);		  //Set OC2A on compare match, clear OC2A at BOTTOM,(inverting mode).
	TCCR2B = (0 << CS22) + (0 << CS21) + (1 << CS20); //No Prescaling
	samples = (uint8_t *)malloc(0);
	_waveform = waveform;
	_duty_cycle = duty_cycle;
	_envelope = envelope;
}

void play(uint16_t freq, uint16_t duration)
{
	uint8_t waveform = _waveform;
	//Init adsr according to the length of the note
	for (int i = 0; i < 4; i++)
	{
		if (_envelope)
		{
			ADSR_env[i] = (uint32_t)_envelope[i] * duration / 100;
		}
		else
		{
			ADSR_env[i] = (uint32_t)ADSR_default[i] * duration / 100;
		}
		//Serial.println(ADSR_env[i]);
	}
	ADSR_env[4] = _envelope ? _envelope[4] : MAX_VOLUME;
	//Serial.println(ADSR_env[4]);

	if (freq == 0)
	{ //Pause
		tPeriod = ISR_CYCLE * 100;
		waveform = PAUSE;
	}
	else
		tPeriod = 1E6 / freq;

	nSamples = tPeriod / ISR_CYCLE;
	realloc(samples, nSamples);
	uint16_t nDuty = (_duty_cycle * nSamples) / 100;

	switch (waveform)
	{
	case SINE: //Sinewave
		for (int i = 0; i < nSamples; i++)
		{
			samples[i] = 128 + 127 * sin(2 * PI * i / nSamples);
		}
		break;

	case TRI: //Triangle
		for (int16_t i = 0; i < nSamples; i++)
		{
			if (i < nDuty)
			{
				samples[i] = 255 * (double)i / nDuty; //Rise
			}
			else
			{
				samples[i] = 255 * (1 - (double)(i - nDuty) / (nSamples - nDuty)); //Fall
			}
		}
		break;
	case RECT: //Rectangle
		for (int16_t i = 0; i < nSamples; i++)
		{
			i < nDuty ? samples[i] = 255 : samples[i] = 0;
		}
		break;
	case PAUSE: //Rectangle
		memset(samples, 0, nSamples);
	}
	TIMSK2 = (1 << TOIE2);
	/*for(uint16_t i = 0; i < nSamples; i++) {
		sprintf(strbuf, "%d: %d", i, samples[i]);
		Serial.println(strbuf);
	}*/
}

//Returns true, while note is playing
boolean isPlaying()
{
	return (1 << TOIE2) & TIMSK2;
}
} // namespace Chimes

//Called every 16s, when TIMER1 overflows
ISR(TIMER2_OVF_vect)
{
	static uint32_t adsr_timer, adsr_time;
	static uint16_t cnt; //Index counter
	static uint8_t sustain_lvl, vol;

	//Set OCR2A to the next value in sample array, this will change the duty cycle accordingly
	OCR2A = vol * samples[cnt] / MAX_VOLUME;
	if (cnt < nSamples - 1)
	{
		cnt++;
	}
	else
	{
		cnt = 0;
		adsr_timer += tPeriod;
		if (adsr_timer >= 10000)
		{ //every 10 millisecond
			adsr_timer = 0;

			switch (adsrPhase)
			{
			case ATTACK:
				if (ADSR_env[ATTACK])
				{
					vol = MAX_VOLUME * (float)adsr_time / ADSR_env[ATTACK];
					if (vol == MAX_VOLUME)
					{ //Attack phase over
						adsrPhase = DECAY;
						adsr_time = 0;
					}
				}
				else
				{
					adsrPhase = DECAY;
					vol = MAX_VOLUME;
					adsr_time = 0;
				}
				break;

			case DECAY:
				if (ADSR_env[DECAY])
				{
					sustain_lvl = _sustain_lvl;
					vol = MAX_VOLUME - (MAX_VOLUME - _sustain_lvl) * (float)adsr_time / ADSR_env[DECAY];
					if (vol <= sustain_lvl)
					{
						adsr_time = 0;
						adsrPhase = SUSTAIN;
					}
				}
				else
				{
					adsrPhase = SUSTAIN;
					sustain_lvl = MAX_VOLUME;
					adsr_time = 0;
				}
				break;

			case SUSTAIN:
				if (adsr_time > ADSR_env[SUSTAIN])
				{
					adsrPhase = RELEASE;
					adsr_time = 0;
				}

				break;
			case RELEASE:
				if (ADSR_env[RELEASE])
				{
					vol = sustain_lvl * (1 - (float)adsr_time / ADSR_env[RELEASE]);
					if (vol == 0)
					{ //Attack phase over
						adsr_time = 0;
						TIMSK2 = (0 << TOIE2);
						adsrPhase = ATTACK;
					}
				}
				else
				{
					adsrPhase = ATTACK;
					vol = 0;
					adsr_time = 0;
					TIMSK2 = (0 << TOIE2);
				}
				break;
			}
			adsr_time += 10;
		}
	}
}

chimes.h

/*This work is licensed under the Creative Commons Attribution-ShareAlike 4.0 International License. 
To view a copy of this license, visit https://creativecommons.org/licenses/by-sa/4.0/deed.en */

#ifndef CHIMES_H
#define CHIMES_H
#include "Arduino.h"

enum waveform
{
	SINE, //Sinus
	RECT, //Triangle
	TRI,  //Rectangle
	PAUSE //Internal, do not use
};
#define MAX_VOLUME 32

namespace Chimes
{
void init(uint8_t waveform = SINE, uint8_t duty_cycle = 50, uint8_t *envelope = NULL);
void play(uint16_t freq, uint16_t duration);

//Returns true while note is playing
boolean isPlaying();
} // namespace Chimes

#endif

getKeyboard.ino

// getKeyboard
// setupKeyboard
void setupKeyboard() {

  // Initialize the pushbutton pin as an input
  pinMode(iKeyboard2, INPUT_PULLUP);
  pinMode(iKeyboard3, INPUT_PULLUP);
  pinMode(iKeyboard4, INPUT_PULLUP);
  pinMode(iKeyboard5, INPUT_PULLUP);
  pinMode(iKeyboard6, INPUT_PULLUP);
  pinMode(iKeyboard7, INPUT_PULLUP);
  pinMode(iKeyboard8, INPUT_PULLUP);
  pinMode(iKeyboard9, INPUT_PULLUP);
 
}
// isKeyboard
void isKeyboard() {

  // Read the state of the pushbutton value
  if ( digitalRead(iKeyboard2) == LOW ) {

    // Button is pressed - pullup keeps pin high normally
    aa = aa + 1;
    // Waveform
    isPlaying();
    play(iNoteA, 1000);
    
  }
  else
  {
    
    aa = aa - 1;
    
  }    

  // Read the state of the pushbutton value
  if ( digitalRead(iKeyboard3) == LOW ) {

    // Button is pressed - pullup keeps pin high normally
    bb = bb + 1;
    // Waveform
    isPlaying();
    play(iNoteB, 1000);
    
  }
  else
  {
    
    bb = bb - 1;
    
  }

  // Read the state of the pushbutton value
  if ( digitalRead(iKeyboard4) == LOW ) {

    // Button is pressed - pullup keeps pin high normally
    cc = cc + 1;
    // Waveform
    isPlaying();
    play(iNoteC, 1000);
    
  }
  else
  {
    
    cc = cc - 1;
    
  }

  // Read the state of the pushbutton value
  if ( digitalRead(iKeyboard5) == LOW ) {

    // Button is pressed - pullup keeps pin high normally
    dd = dd + 1;
    // Waveform
    isPlaying();
    play(iNoteD, 1000);
    
  }
  else
  {
    
    dd = dd - 1;
    
  }
  
  // Read the state of the pushbutton value
  if ( digitalRead(iKeyboard6) == LOW ) {

    // Button is pressed - pullup keeps pin high normally
    ee = ee + 1;
    // Waveform
    isPlaying();
    play(iNoteE, 1000);
    
  }
  else
  {
    
    ee = ee - 1;
    
  }

  // Read the state of the pushbutton value
  if ( digitalRead(iKeyboard7) == LOW ) {

    // Button is pressed - pullup keeps pin high normally
    ff = ff + 1;
    // Waveform
    isPlaying();
    play(iNoteF, 1000);
    
  }
  else
  {
    
    ff = ff - 1;
    
  }

  // Read the state of the pushbutton value
  if ( digitalRead(iKeyboard8) == LOW ) {

    // Button is pressed - pullup keeps pin high normally
    gg = gg + 1;
    // Waveform
    isPlaying();
    play(iNoteG, 1000);
    
  }
  else
  {
    
    gg = gg - 1;
    
  }

  // Read the state of the pushbutton value
  if ( digitalRead(iKeyboard9) == LOW ) {

    // Button is pressed - pullup keeps pin high normally
    hh = hh + 1;
    // Waveform
    isPlaying();
    play(iNoteAA, 1000);
    
  }
  else
  {
    
    hh = hh - 1;
    
  }

  // Waveform
  isPlaying();
  play(0, 50);

}

getPitches.ino

// Pitches
// isPitches
void isPitches(){
  
  // Frequency
  iFreg = analogRead(iCap);
  iFreg = map(iFreg, 0, 1023, 1, 6);

  // Range Frequency Note Low => High
  switch ( iFreg ) {
    case 1:
      // NOTE A1
      iNoteA = NOTE_A1;
      iNoteB = NOTE_B1;
      iNoteC = NOTE_C2;
      iNoteD = NOTE_D2;
      iNoteE = NOTE_E2;
      iNoteF = NOTE_F2;
      iNoteG = NOTE_G2;
      iNoteAA = NOTE_A2;
      break;
    case 2:
      // NOTE A2
      iNoteA = NOTE_A2;
      iNoteB = NOTE_B2;
      iNoteC = NOTE_C3;
      iNoteD = NOTE_D3;
      iNoteE = NOTE_E3;
      iNoteF = NOTE_F3;
      iNoteG = NOTE_G3;
      iNoteAA = NOTE_A3;
      break;
    case 3:
      // NOTE A3
      iNoteA = NOTE_A3;
      iNoteB = NOTE_B3;
      iNoteC = NOTE_C4;
      iNoteD = NOTE_D4;
      iNoteE = NOTE_E4;
      iNoteF = NOTE_F4;
      iNoteG = NOTE_G4;
      iNoteAA = NOTE_A4;
      break;
    case 4:
      // NOTE A4
      iNoteA = NOTE_A4;
      iNoteB = NOTE_B4;
      iNoteC = NOTE_C5;
      iNoteD = NOTE_D5;
      iNoteE = NOTE_E5;
      iNoteF = NOTE_F5;
      iNoteG = NOTE_G5;
      iNoteAA = NOTE_A5;
      break;
    case 5:
      // NOTE A5
      iNoteA = NOTE_A5;
      iNoteB = NOTE_B5;
      iNoteC = NOTE_C6;
      iNoteD = NOTE_D6;
      iNoteE = NOTE_E6;
      iNoteF = NOTE_F6;
      iNoteG = NOTE_G6;
      iNoteAA = NOTE_A6;
      break;
    case 6:
      // NOTE A6
      iNoteA = NOTE_A6;
      iNoteB = NOTE_B6;
      iNoteC = NOTE_C7;
      iNoteD = NOTE_D7;
      iNoteE = NOTE_E7;
      iNoteF = NOTE_F7;
      iNoteG = NOTE_G7;
      iNoteAA = NOTE_A7;
      break;
  }
  
}

pitches.h

/*****************************************************************
 * Pitches NOTE_B0 <=> NOTE_DS8 - NOTE_A4 is "A" measured at 440Hz
 *****************************************************************/

#define NOTE_B0  31
#define NOTE_C1  33
#define NOTE_CS1 35
#define NOTE_D1  37
#define NOTE_DS1 39
#define NOTE_E1  41
#define NOTE_F1  44
#define NOTE_FS1 46
#define NOTE_G1  49
#define NOTE_GS1 52
#define NOTE_A1  55
#define NOTE_AS1 58
#define NOTE_B1  62
#define NOTE_C2  65
#define NOTE_CS2 69
#define NOTE_D2  73
#define NOTE_DS2 78
#define NOTE_E2  82
#define NOTE_F2  87
#define NOTE_FS2 93
#define NOTE_G2  98
#define NOTE_GS2 104
#define NOTE_A2  110
#define NOTE_AS2 117
#define NOTE_B2  123
#define NOTE_C3  131
#define NOTE_CS3 139
#define NOTE_D3  147
#define NOTE_DS3 156
#define NOTE_E3  165
#define NOTE_F3  175
#define NOTE_FS3 185
#define NOTE_G3  196
#define NOTE_GS3 208
#define NOTE_A3  220
#define NOTE_AS3 233
#define NOTE_B3  247
#define NOTE_C4  262
#define NOTE_CS4 277
#define NOTE_D4  294
#define NOTE_DS4 311
#define NOTE_E4  330
#define NOTE_F4  349
#define NOTE_FS4 370
#define NOTE_G4  392
#define NOTE_GS4 415
#define NOTE_A4  440
#define NOTE_AS4 466
#define NOTE_B4  494
#define NOTE_C5  523
#define NOTE_CS5 554
#define NOTE_D5  587
#define NOTE_DS5 622
#define NOTE_E5  659
#define NOTE_F5  698
#define NOTE_FS5 740
#define NOTE_G5  784
#define NOTE_GS5 831
#define NOTE_A5  880
#define NOTE_AS5 932
#define NOTE_B5  988
#define NOTE_C6  1047
#define NOTE_CS6 1109
#define NOTE_D6  1175
#define NOTE_DS6 1245
#define NOTE_E6  1319
#define NOTE_F6  1397
#define NOTE_FS6 1480
#define NOTE_G6  1568
#define NOTE_GS6 1661
#define NOTE_A6  1760
#define NOTE_AS6 1865
#define NOTE_B6  1976
#define NOTE_C7  2093
#define NOTE_CS7 2217
#define NOTE_D7  2349
#define NOTE_DS7 2489
#define NOTE_E7  2637
#define NOTE_F7  2794
#define NOTE_FS7 2960
#define NOTE_G7  3136
#define NOTE_GS7 3322
#define NOTE_A7  3520
#define NOTE_AS7 3729
#define NOTE_B7  3951
#define NOTE_C8  4186
#define NOTE_CS8 4435
#define NOTE_D8  4699
#define NOTE_DS8 4978

setup.ino

// Setup
void setup() {

  // Setup Keyboard
  setupKeyboard();

  // Waveform
  init(

    // SINE, TRI and RECT
    SINE,
    // Duty cycle 0..100%, only matters for Triangle and Rectangle 
    50,
    // Envelope
  envelope);
  
}

Technology Experience
Single-Board Microcontrollers (PIC, Arduino, Raspberry Pi,Espressif, etc...)
Robotics
Research & Development (R & D)
Desktop Applications (Windows, OSX, Linux, Multi-OS, Multi-Tier, etc...)
Mobile Applications (Android, iOS, Blackberry, Windows Mobile, Windows CE, etc...)
Web Applications (LAMP, Scripting, Java, ASP, ASP.NET, RoR, Wakanda, etc...)
Social Media Programming & Integration (Facebook, Twitter, YouTube, Pinterest, etc...)
Content Management Systems (WordPress, Drupal, Joomla, Moodle, etc...)
Bulletin Boards (phpBB, SMF, Vanilla, jobberBase, etc...)
eCommerce (WooCommerce, OSCommerce, ZenCart, PayPal Shopping Cart, etc...)
Instructor
Arduino
Raspberry Pi
Espressif
Robotics
DOS, Windows, OSX, Linux, iOS, Android, Multi-OS
Linux-Apache-PHP-MySQL
Follow Us
J. Luc Paquin – Curriculum Vitae
https://www.donluc.com/DLHackster/LucPaquinCVEngMk2020a.pdf
Web: https://www.donluc.com/
Web: http://www.jlpconsultants.com/
Web: https://www.donluc.com/DLHackster/
Web: https://www.hackster.io/neosteam-labs
Facebook: https://www.facebook.com/neosteam.labs.9/
YouTube: https://www.youtube.com/channel/UC5eRjrGn1CqkkGfZy0jxEdA
Twitter: https://twitter.com/labs_steam
Pinterest: https://www.pinterest.com/NeoSteamLabs/
Instagram: https://www.instagram.com/luc.paquin/
Don Luc