——
#DonLucElectronics #DonLuc #Sound #Arduino #ESP32 #SparkFunThingPlusESP32WROOM #SparkFunQwiicMP3 #Project #Programming #Electronics #Microcontrollers #Consultant #VideoBlog
——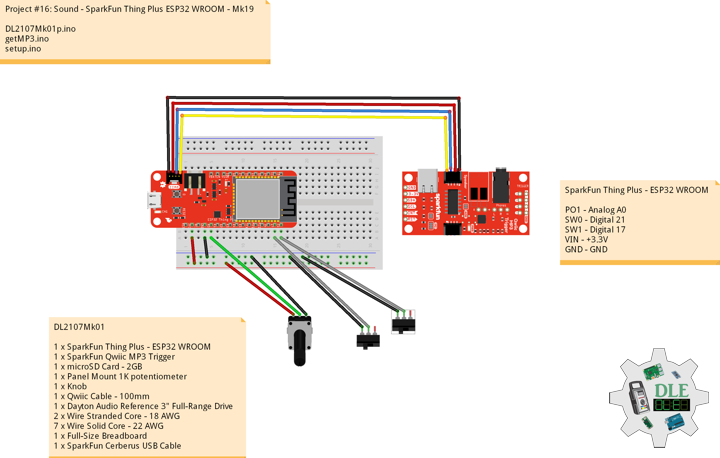 ——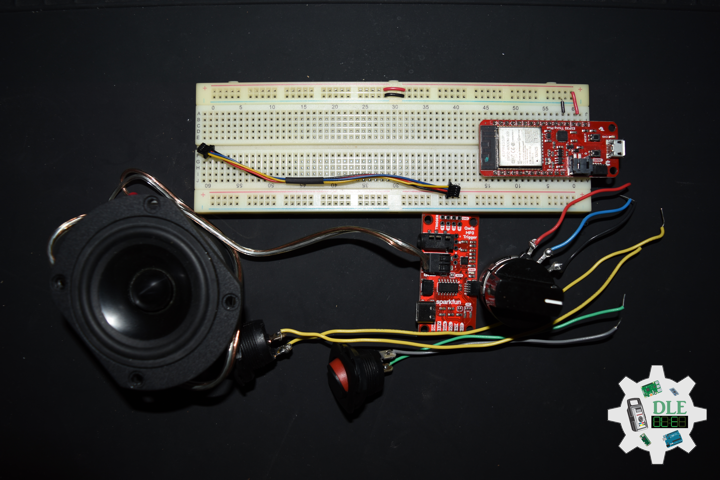 ——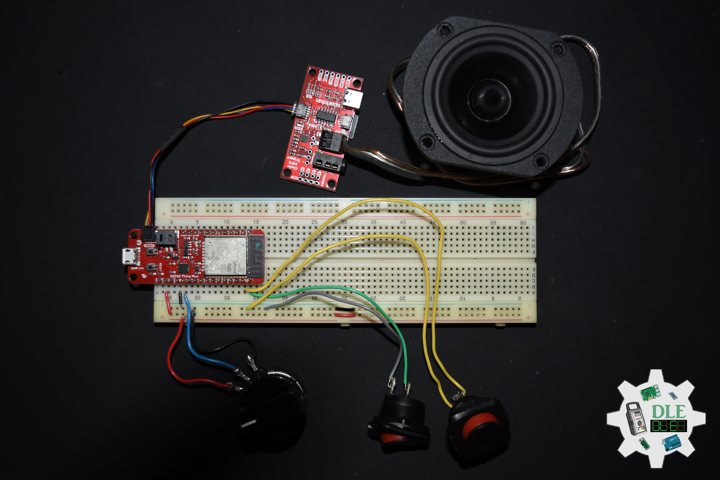 ——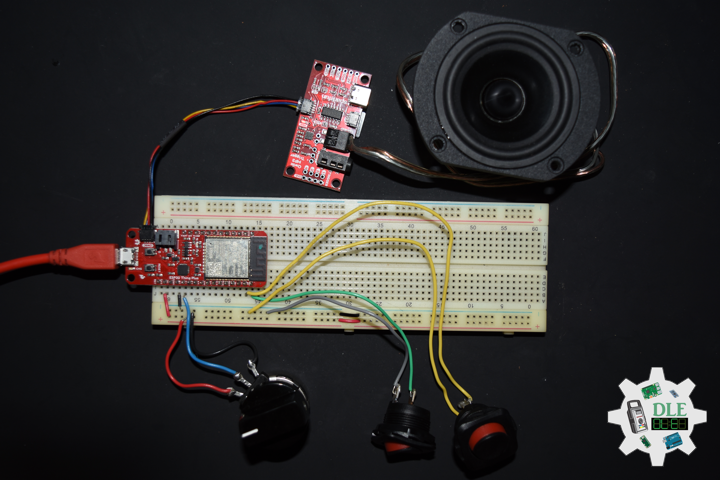 ——-
SparkFun Thing Plus – ESP32 WROOM
The SparkFun ESP32 Thing Plus is the next step to get started with Espressif IoT ideations while still enjoying all the amenities of the original ESP32 Thing. Espressif's ESP32 WROOM is a powerful WiFi and Bluetooth MCU module that targets a wide variety of applications. At the core of this module is the ESP32-D0WDQ6 chip which is designed to be both scalable and adaptive. To make the Thing Plus even easier to use, we've moved a few pins around to make the board Feather compatible and it utilizes our handy Qwiic Connect System which means no soldering or shields are required to connect it to the rest of your system. A JST connector to plug in a LiPo battery.
SparkFun Qwiic MP3 Trigger
Sometimes you just need an MP3 to play. The SparkFun Qwiic MP3 Trigger takes care of all the necessary requirements, all you need to do is send a simple I2C command and listen to whatever is on your micro SD card. The contents of the microSD card appears as a jump drive. Simply plug in the Qwiic MP3 Trigger and you'll be transferring MP3s, no need for drivers and no need for WAV or Vorbis conversion. Your supplied speaker is boosted by a Class-D mono amplifier capable of outputting up to 1.4W making it capable of being incredibly loud. Volume is software selectable between 32 levels.
DL2107Mk01
1 x SparkFun Thing Plus – ESP32 WROOM
1 x SparkFun Qwiic MP3 Trigger
1 x microSD Card – 2GB
1 x Panel Mount 1K potentiometer
1 x Knob
1 x Qwiic Cable – 100mm
1 x Dayton Audio Reference 3″ Full-Range Drive
2 x Wire Stranded Core – 18 AWG
7 x Wire Solid Core – 22 AWG
1 x Full-Size Breadboard
1 x SparkFun Cerberus USB Cable
SparkFun Thing Plus – ESP32 WROOM
PO1 – Analog A0
SW0 – Digital 21
SW1 – Digital 17
VIN – +3.3V
GND – GND
DL2107Mk01p.ino

// ***** Don Luc Electronics © *****
// Software Version Information
// #16 - Sound - SparkFun Thing Plus ESP32 WROOM - Mk19
// 07-01
// DL2107Mk01p.ino
// 1 x SparkFun RedBoard Qwiic
// 1 x SparkFun Qwiic MP3 Trigger
// 1 x microSD Card - 2GB
// 1 x Panel Mount 1K potentiometer
// 1 x Knob
// 1 x Qwiic Cable - 100mm
// 1 x Dayton Audio Reference 3" Full-Range Drive
// 2 x Wire Stranded Core - 18 AWG
// 7 x Wire Solid Core - 22 AWG
// 1 x Full-Size Breadboard
// 1 x SparkFun Cerberus USB Cable

// Include the Library Code
// Wire communicate with I2C / TWI devices
#include <Wire.h>
// SparkFun MP3 Trigger
#include "SparkFun_Qwiic_MP3_Trigger_Arduino_Library.h"

// SparkFun MP3 Trigger
MP3TRIGGER mp3;

int iSongCount = 0;
int x = 0;

// Volume
int iVolume = A0;
int iVolumeLevel = 0;

// EQ Setting Normal
byte bEQSetting = 0;

// Play Next
const int iPlayNext = 21;
// Variable for reading the iPlayNext status
int iPlayNextState = 0;

// Play Previous
const int iPlayPrevious = 17;
// Variable for reading the iPlayPrevious status
int iPlayPreviousState = 0;

// Software Version Information
String sver = "16-19";

void loop()
{
    
   if (mp3.isPlaying() == false) {

    if ( x > iSongCount ) {

      x = 0;
      
    } else {

      x = x + 1;
      
    }
    
    // Play Track
    mp3.playTrack( x );
    
  } else {

    // Volume
    isVolume();

    // Play Next
    isPlayNext();

    // Play Previous
    isPlayPrevious();

  }

}

getMP3.ino

// MP3
// Setup MP3
void isSetupMP3(){

  // Check to see if Qwiic MP3 is present on the bus
  if (mp3.begin() == false)
  {
    
    // Qwiic MP3 failed to respond. Please check wiring and possibly the I2C address. Freezing...
    while (1);
    
  }

  if (mp3.hasCard() == false)
  {
    
    // Qwiic MP3 is missing its SD card. Freezing...
    while (1);
    
  }

  // Song Count
  iSongCount = mp3.getSongCount();

  // EQ Setting Classic
  bEQSetting = mp3.getEQ();

  // Initialize the iPlayNext
  pinMode( iPlayNext, INPUT);

  // Initialize the iPlayPrevious
  pinMode( iPlayPrevious, INPUT);

}
// Volume
void isVolume() {

  // Volume
  iVolumeLevel = analogRead( iVolume );
  // (0-1023 for 10 bits or 0-4095 for 12 bits)
  iVolumeLevel = map(iVolumeLevel, 0, 4095, 0, 31);

  // Volume can be 0 (off) to 31 (max)
  mp3.setVolume( iVolumeLevel );
  
}
// Play Next
void isPlayNext() {

  // Read the state of the iPlayNext value
  iPlayNextState = digitalRead( iPlayNext );

  if ( iPlayNextState == HIGH ) {

    mp3.stop();
    
    if ( x > iSongCount ) {

      x = 0;
      
    } else {

      x = x + 1;
      
    }
    
    // Play Track
    mp3.playTrack( x );     
    
  } 

}
// Play Previous
void isPlayPrevious() {

  // Read the state of the iPlayPrevious value
  iPlayPreviousState = digitalRead( iPlayPrevious );

  if ( iPlayPreviousState == HIGH ) {

    mp3.stop();
    
    if ( x > iSongCount ) {

      x = 0;
      
    } else {

      x = x - 1;
      
    }
    
    // Play Track
    mp3.playTrack( x );     
    
  } 

}

setup.ino

// Setup
void setup()
{
   
   // Wire communicate with I2C / TWI devices
   Wire.begin();

   // SparkFun MP3 Trigger Setup
   isSetupMP3();

}

——
People can contact us: https://www.donluc.com/?page_id=1927
Technology Experience
Single-Board Microcontrollers (PIC, Arduino, Raspberry Pi,Espressif, etc…)
Robotics
Research & Development (R & D)
Desktop Applications (Windows, OSX, Linux, Multi-OS, Multi-Tier, etc…)
Mobile Applications (Android, iOS, Blackberry, Windows Mobile, Windows CE, etc…)
Web Applications (LAMP, Scripting, Java, ASP, ASP.NET, RoR, Wakanda, etc…)
Social Media Programming & Integration (Facebook, Twitter, YouTube, Pinterest, etc…)
Content Management Systems (WordPress, Drupal, Joomla, Moodle, etc…)
Bulletin Boards (phpBB, SMF, Vanilla, jobberBase, etc…)
eCommerce (WooCommerce, OSCommerce, ZenCart, PayPal Shopping Cart, etc…)
Instructor
PIC Microcontrollers
Arduino
Raspberry Pi
Espressif
Robotics
DOS, Windows, OSX, Linux, iOS, Android, Multi-OS
Linux-Apache-PHP-MySQL
Follow Us
J. Luc Paquin – Curriculum Vitae – 2021 English & Español
https://www.jlpconsultants.com/CV/LucPaquinCVEngMk2021c.pdf
https://www.jlpconsultants.com/CV/LucPaquinCVEspMk2021c.pdf
Web: https://www.donluc.com/
Web: http://www.jlpconsultants.com/
Web: https://www.donluc.com/DLE/
Web: https://www.donluc.com/DLHackster/
Web: https://www.hackster.io/neosteam-labs
Web: https://zoom.us/
Patreon: https://www.patreon.com/DonLucElectronics
Facebook: https://www.facebook.com/neosteam.labs.9/
YouTube: https://www.youtube.com/channel/UC5eRjrGn1CqkkGfZy0jxEdA
Twitter: https://twitter.com/labs_steam
Pinterest: https://www.pinterest.com/NeoSteamLabs/
Instagram: https://www.instagram.com/neosteamlabs/
Don Luc