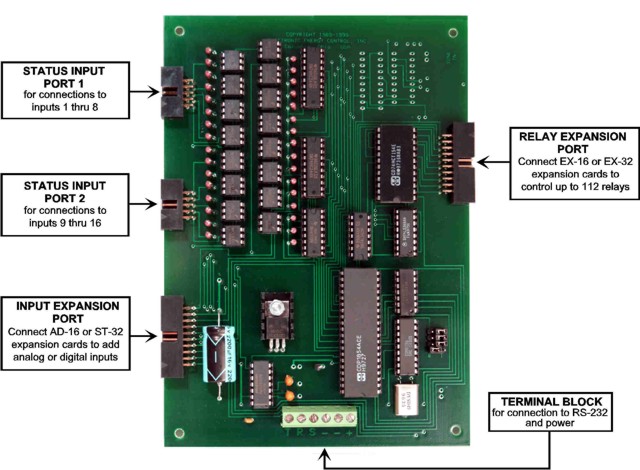 Electronic Energy Control Inc
STA-16 – RS-232 Contact Monitor Voltage Monitor
Designed for continuous 24 hour industrial operation.
Low cost – High reliability – 15 years of proven performance in the energy management field.
In addition to use in energy management and HVAC, the STA-16 is widely used for equipment monitoring and for use as a security system interface with event logging.
Connects to RS-232.
Full technical support provided by on staff advisors.
Optional Touch Tone Input available.
Optional AC Opto Isolators available for use with the digital inputs.
Expandable up to 144 digital inputs or up to 32 analog inputs using ST-32 or AD-16 expansion cards.
Expandable to control up to 112 relays or digital outputs using EX-16 or EX-32 expansion cards.
Compatible with all versions of Windows including XP, Vista, Windows 7 and Windows 8.
Open Source – Source code examples included in Microsoft Visual Basic 6, Microsoft Visual Basic.Net, VB 2008, VB 2010, Microsoft ASP.NET, Assembly, C and others.
Includes CD with Technical Reference and Data Logging Software – Cable, terminal block and power supply sold separately.
The STA-16 Status Input Interface provides two 8 channel status input ports which allow input of on/off status information into a conventional PC for a wide variety of monitoring and signaling applications. Uses include the input of on/off status information of relays, switches, thermostats, security system motion detectors and magnetic switches, smoke detectors, heating and air conditioning equipment, air flow switches, air damper position switches, pressure switches and thousands of other devices. The STA-16 also has many applications in HVAC and home automation. The energy consumption of equipment with a constant load (lighting, resistance heating, hot water heaters, etc.) is easily computed by multiplying the time on by the equipment's KW rating. The STA-16 is ideal for use in logging energy usage or equipment performance and is also well suited for use as a security system logger (to record times doors are opened, motion detectors tripped, alarms or other events). Other uses include the input of 8 or 16 bit binary codes for interfacing to TTL or CMOS level digital signals (allowing connection to counters, parallel data bus lines and other types of digital devices and equipment). The KY-12M Keypad may be connected directly to the STA-16 status input ports for use with security systems, door entry access, remote data entry and other uses. A modem will permit the status inputs to be monitored from a remote site (or use an Internet connection). The status information is obtained by transmitting a single byte port code to the STA-16. The STA-16 then transmits back a single byte code with each bit representing the 8 inputs on that port. The status inputs are turned on by applying a small current (6 ma typical) to the LED inside the opto coupler on the STA-16 (minimum 1.5 volts required, common cathode). Optional AC opto couplers are available which will turn on in both directions, allowing for both common cathode and common anode configurations. The input voltage range defaults to a 6 to 18 volt range with a 1.8 K series resistor to the LED (the STA-16 may be ordered with other resistor values or with no resistors by specifying the /M option). The STA-16 Status Input Interface provides a relay expansion port to control up to 112 relays (using EX-16 or EX-32 relay expansion cards) and an input expansion port which allows for expansion to 144 status inputs or 32 analog inputs (using ST-32, AD-16 or AD-32 expansion cards). An optional Touch Tone input is also available. Includes technical reference, software examples and STA-16 Data Acquisition Software for Windows (for use with Windows versions 3.0, 3.1, Windows 95, 98, 2000, ME, NT, XP, Vista and Windows 7, 8). Software is also provided that allow the STA-16 inputs and/or relays to be controlled or monitored over a network (LAN, Internet, etc.).
Don Luc