——
#DonLucElectronics #DonLuc #ETextiles #Wearable #Arduino #Project #Programming #Electronics #Microcontrollers #Consultant
——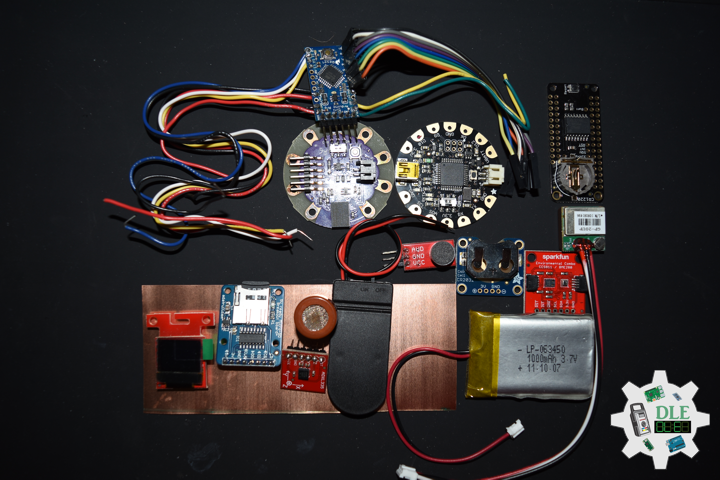 ——
E-Textiles and Wearable Technology
Flexible electronic textiles and wearable electronic devices are becoming more and more interesting every day. With the increasing interest in wearable electronics, production processes are developing and their usage is becoming widespread. The technical expertise to integrate wires, monofilaments, and conductive yarns into narrow fabrics for use in numerous textiles applications that can replace or enhance, prior electric or electronic systems. Our ability to engineer products to our customers unique configurations will transform traditional fabrics into highly functional integrated systems and products. Your unique textile is now a device with the capability to see, hear, sense, communicate, store, monitor, and convert energy and/or data.
Aesthetic examples include fabrics that light up and fabrics that can change colour. Some of these fabrics gather energy from the environment by harnessing vibrations, sound, or heat, reacting to these inputs. The colour changing and lighting scheme can also work by embedding the fabric with electronics that can power it.
Performance enhancing smart textiles are intended for use in athletic, extreme sports, and military applications. These include fabrics designed to regulate body temperature, reduce wind resistance, and control muscle vibration, all of which may improve athletic performance. Other fabrics have been developed for protective clothing, to guard against extreme environmental hazards, such as radiation and the effects of space travel.
Electronic device with micro-controllers that are worn close to and, or on the surface of the skin, where they detect, analyze, and transmit information concerning, body signals such as vital signs, or ambient data and which allow in some cases immediate biofeedback to the wearer. Electronic textiles are distinct from and wearable computing because the emphasis is placed on the seamless integration of textiles with electronic elements like microcontrollers, GPS, WiFi, Bluetooth, sensors, and actuators. Furthermore, e-textiles need not be wearable.
E-Textiles and Wearable
Clothing And Shoes
Bags And Purses
Backpacks
Hats And Caps
Helmets
Biometrics
Environment, Temperature, Humidity, Pressure, Altitude, Air Quality, TVOC, eCO2, And Gas Sensor
Sound
GPS
Imaging
Angle Displacement Measurement
Bends and Flexes Physically With Motion Device
Medical Devices
Recuperate Their Movement With Their Hands, Arm, Leg And Foot
Computer Peripherals
Physical Therapy
RFID
Radiation
Gaming
Art
Computer Peripherals
Musical Instruments
Robotics
Jewelry
Etc…
People can contact us: https://www.donluc.com/?page_id=1927
Technology Experience
Single-Board Microcontrollers (PIC, Arduino, Raspberry Pi,Espressif, etc…)
IoT
Robotics
Camera and Video Capture Receiver Stationary, Wheel/Tank and Underwater Vehicle
Unmanned Vehicles Terrestrial and Marine
Research & Development (R & D)
Desktop Applications (Windows, OSX, Linux, Multi-OS, Multi-Tier, etc…)
Mobile Applications (Android, iOS, Blackberry, Windows Mobile, Windows CE, etc…)
Web Applications (LAMP, Scripting, Java, ASP, ASP.NET, RoR, Wakanda, etc…)
Social Media Programming & Integration (Facebook, Twitter, YouTube, Pinterest, etc…)
Content Management Systems (WordPress, Drupal, Joomla, Moodle, etc…)
Bulletin Boards (phpBB, SMF, Vanilla, jobberBase, etc…)
eCommerce (WooCommerce, OSCommerce, ZenCart, PayPal Shopping Cart, etc…)
Instructor and E-Mentor
IoT
PIC Microcontrollers
Arduino
Raspberry Pi
Espressif
Robotics
DOS, Windows, OSX, Linux, iOS, Android, Multi-OS
Linux-Apache-PHP-MySQL
Follow Us
J. Luc Paquin – Curriculum Vitae – 2022 English & Español
https://www.jlpconsultants.com/luc/
Web: https://www.donluc.com/
Web: https://www.jlpconsultants.com/
Facebook: https://www.facebook.com/neosteam.labs.9/
YouTube: https://www.youtube.com/channel/UC5eRjrGn1CqkkGfZy0jxEdA
Twitter: https://twitter.com/labs_steam
Pinterest: https://www.pinterest.com/NeoSteamLabs/
Instagram: https://www.instagram.com/neosteamlabs/
Don Luc