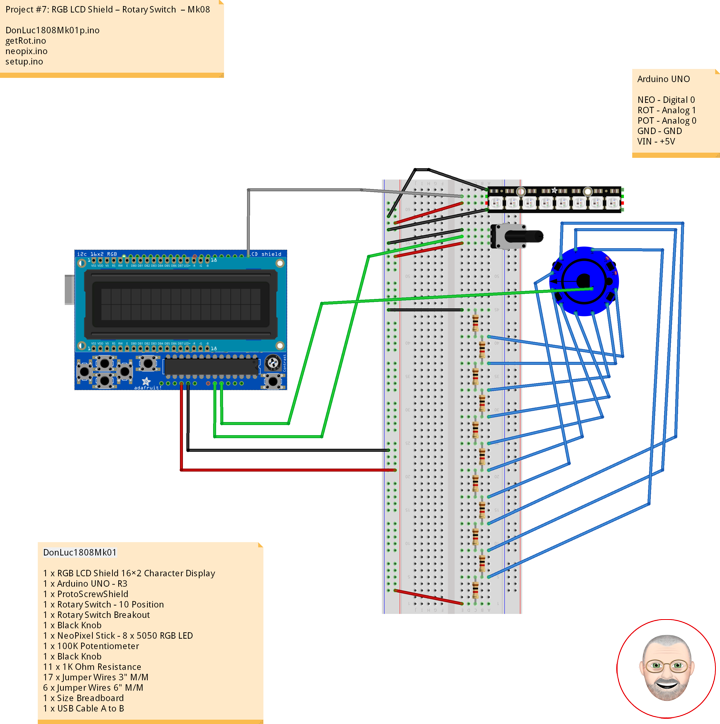 Rotary Switch – 10 Position
This is a single pole, 10 position rotary switch able to select up to 10 different states in a durable package. Unlike our other rotary switch, this model is much more robust and capable of handling larger currents and voltages.
With a max voltage rating of 125VAC at 0.3A and a dielectric strength of 250VAC for 1 minute this is a serious little rotary switch capable of working with some of your bigger projects. Though this switch requires you to use 11 pins and is not breadboard friendly we do offer a breakout board (found in the Recommended Products section below) to provide easier access to its capabilities.
1 x Rotary Switch – 10 Position
1 x Hex Nut
2 x Washer
Rating: 0.3A/125VAC
Contact Resistance: 50M Ohm max
Insulation Resistance: 100M Ohm @ 500VDC min
Dielectric Strength: 250VAC for 1 minute
Rotation torque: 1.0+0.5KG/cm
Shaft: 3/8″
Rotary Switch Breakout
This is the SparkFun Rotary Switch Breakout, a very simple board designed to easily provide you access to each pin on our 10-position rotary switches. This breakout allows you to easily add a rotary switch to your next project without having to worry about attaching its unique footprint to a custom board or solderless breadboard. All you need to do is solder the 10-position rotary switch into the breakout (using the silkscreen on the board as a guide) and each pin will become available for breadboard or hookup wire compatibility.
Each one of these boards breaks out the common ( C ), 1, 2, 3, 4, 5, 6, 7, 8, 9, and 10 positions on the board into 0.1″ spaced pins.
NeoPixel Stick – 8 x 5050 RGB LED
Make your own little LED strip arrangement with this stick of NeoPixel LEDs. We crammed 8 of the tiny 5050 (5mm x 5mm) smart RGB LEDs onto a PCB with mounting holes and a chainable design. Use only one microcontroller pin to control as many as you can chain together! Each LED is addressable as the driver chip is inside the LED. Each one has ~18mA constant current drive so the color will be very consistent even if the voltage varies, and no external choke resistors are required making the design slim. Power the whole thing with 5VDC (4-7V works) and you're ready to rock.
DonLuc1808Mk01
1 x RGB LCD Shield 16×2 Character Display
1 x Arduino UNO – R3
1 x ProtoScrewShield
1 x Rotary Switch – 10 Position
1 x Rotary Switch Breakout
1 x Black Knob
1 x NeoPixel Stick – 8 x 5050 RGB LED
1 x 100K Potentiometer
1 x Black Knob
11 x 1K Ohm Resistance
17 x Jumper Wires 3″ M/M
6 x Jumper Wires 6″ M/M
1 x Size Breadboard
1 x USB Cable A to B
Arduino UNO
NEO – Digital 0
ROT – Analog 1
POT – Analog 0
GND – GND
VIN – +5V
DonLuc1808Mk01p.ino
1

2

3

4

5

6

7

8

9

10

11

12

13

14

15

16

17

18

19

20

21

22

23

24

25

26

27

28

29

30

31

32

33

34

35

36

37

38

39

40

41

42

43

44

45

46

47

48

49

// Software Version Information

// Project #7: RGB LCD Shield – Rotary Switch – Mk08

#include <Adafruit_MCP23017.h>

#include <Adafruit_RGBLCDShield.h>

#include <Adafruit_NeoPixel.h>

Adafruit_RGBLCDShield

RGBLCDShield

=

Adafruit_RGBLCDShield

(

)

;

#define PIN 0 // On digital pin 3

#define NUMPIXELS 8 // NeoPixels NUMPIXELS = 8

Adafruit_NeoPixel

pixels

=

Adafruit_NeoPixel

(

NUMPIXELS

,

PIN

,

NEO_GRB

+

NEO_KHZ800

)

;

const

int

iBriPin

=

A0

;

// Panel Mount 1K potentiometer Brightneed

int

iBri

=

0

;

// Neopix Brightness

int

iBriMin

=

1023

;

// Brightneed minimum sensor value

int

iBriMax

=

0

;

// Brightneed maximun sensor value

// Rotary Switch - 10 Position

int

iRotNum

=

A1

;

// Rotary Switch

int

iVal

=

0

;

// iVal - Value
getRot.ino
1

2

3

4

5

6

7

8

9

10

11

12

13

14

15

16

17

18

19

20

21

22

23

24

25

26

27

28

29

30

31

32

33

34

35

36

37

38

39

40

41

42

43

44

45

46

47

48

49

50

51

52

53

54

55

56

57

58

59

60

61

62

63

64

65

66

67

68

69

70

71

72

73

74

75

76

77

78

79

80

81

82

83

84

85

86

87

88

89

90

91

92

93

94

95

96

97

98

99

100

101

102

103

104

105

106

107

108

109

110

111

112

113

114

115

116

117

118

119

120

121

122

123

124

125

126

127

128

129

130

131

132

133

134

135

136

137

138

139

140

141

142

143

144

145

146

147

148

149

150

151

152

153

154

155

156

157

158

159

160

161

162

163

164

165

166

167

168

169

170

171

172

173

174

175

176

177

178

179

180

181

182

183

184

185

186

187

188

189

190

191

192

193

194

195

196

197

198

199

200

201

202

203

204

205

206

207

208

209

210

211

212

213

214

215

216

217

218

219

220

221

222

223

224

225

226

227

228

229

230

231

232

233

234

235

236

237

238

239

240

241

242

243

244

245

246

247

248

249

250

251

252

253

254

255

256

257

258

for

(

int

y

=

0

;

y

<

NUMPIXELS

;

y

++

)

// Set the cursor to column 0, line 0

RGBLCDShield

.

setCursor

(

0

,

0

)

;

RGBLCDShield

.

print

(

"Rotary Switch"

)

;

// Rotary Switch

z

=

analogRead

(

iRotNum

)

;

// Rotary Switch

iVal

=

(

z

/

100

)

;

// Rotary Value

// Set the cursor to column 0, line 1

RGBLCDShield

.

setCursor

(

0

,

1

)

;

RGBLCDShield

.

print

(

"iVal = "

)

;

// Rotary Value

RGBLCDShield

.

print

(

iVal

+

1

)

;

for

(

int

y

=

0

;

y

<

NUMPIXELS

;

y

++

)

{

for

(

int

y

=

0

;

y

<

NUMPIXELS

;

y

++

)

{

for

(

int

y

=

0

;

y

<

NUMPIXELS

;

y

++

)

{

for

(

int

y

=

0

;

y

<

NUMPIXELS

;

y

++

)

{

for

(

int

y

=

0

;

y

<

NUMPIXELS

;

y

++

)

{

for

(

int

y

=

0

;

y

<

NUMPIXELS

;

y

++

)

{

for

(

int

y

=

0

;

y

<

NUMPIXELS

;

y

++

)

{

for

(

int

y

=

0

;

y

<

NUMPIXELS

;

y

++

)

{

for

(

int

y

=

0

;

y

<

NUMPIXELS

;

y

++

)

{

for

(

int

y

=

0

;

y

<

NUMPIXELS

;

y

++

)

{
neopix.ino
1

2

3

4

5

6

7

8

9

10

11

12

13

14

15

16

17

18

19

20

21

iBri

=

analogRead

(

iBriPin

)

;

// iBri apply the calibration to the sensor reading

iBri

=

map

(

iBri

,

iBriMin

,

iBriMax

,

0

,

255

)

;

// iBri in case the sensor value is outside the range seen during calibration

iBri

=

constrain

(

iBri

,

0

,

255

)

;

pixels

.

setBrightness

(

iBri

)

;

// Pixels.Color takes RGB values, from 0,0,0 up to 255,255,255

pixels

.

setPixelColor

(

iNeo

,

pixels

.

Color

(

red

,

green

,

blue

)

)

;

// This sends the updated pixel color to the hardware

// Delay for a period of time (in milliseconds)
setup.ino
1

2

3

4

5

6

7

8

9

10

11

12

13

14

15

16

17

18

19

20

21

22

23

24

25

26

27

28

29

30

31

32

33

34

35

// set up the LCD's number of columns and rows:

RGBLCDShield

.

begin

(

16

,

2

)

;

RGBLCDShield

.

setBacklight

(

GREEN

)

;

// Set the cursor to column 0, line 0

RGBLCDShield

.

setCursor

(

0

,

0

)

;

RGBLCDShield

.

print

(

"Don Luc"

)

;

// Don luc

// Set the cursor to column 0, line 1

RGBLCDShield

.

setCursor

(

0

,

1

)

;

RGBLCDShield

.

print

(

"Rotary Switch"

)

;

// Rotary Switch

pixels

.

begin

(

)

;

// This initializes the NeoPixel library

for

(

int

y

=

0

;

y

<

NUMPIXELS

;

y

++

)
Don Luc