——
#DonLucElectronics #DonLuc #Programming #Electronics #Microcontrollers #Consultant
——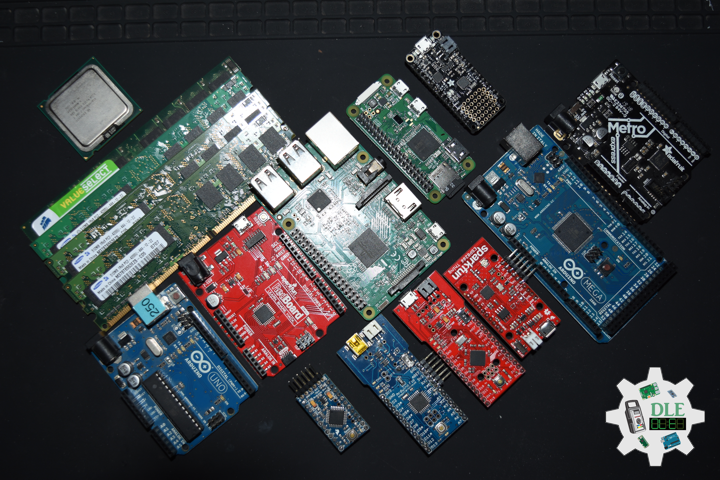 ——
Computer
A computer is an electronic device that manipulates information, or data. It has the ability to store, retrieve, and process data. Most computers rely on a binary system, which uses two variables, 0 and 1, to complete tasks such as storing data, calculating algorithms, and displaying information. Computers come in many different shapes and sizes, from handheld smartphones to supercomputers weighing more than 300 tons.
Microcontrollers
A microcontroller is a compact integrated circuit designed to govern a specific operation in an embedded system. A typical microcontroller includes a processor, memory and input / output peripherals on a single chip.
Sometimes referred to as an embedded controller or microcontroller unit (MCU), microcontrollers are found in vehicles, robots, office machines, medical devices, mobile radio transceivers, vending machines and home appliances, among other devices. They are essentially simple miniature personal computers designed to control small features of a larger component, without a complex front-end operating system. Microcontrollers are designed for embedded applications, in contrast to the microprocessors used in personal computers or other general purpose applications consisting of various discrete chips.
Introduction to Microcontrollers – 2012
I'm hard at work… Actually make that "I think" that tomorrow's video post will be an introduction to microcontrollers. I will dig some stuff out of the drawers tomorrow and as usual make it up as I go and it will probably be about microcontrollers.
Today's video post is a short introduction to microcontrollers. Watch in the coming days for our next post which will be about our first microcontroller project. It probably will be Arduino-based.
Video and speech error.
People can contact us: https://www.donluc.com/?page_id=1927
Technology Experience
Single-Board Microcontrollers (PIC, Arduino, Raspberry Pi,Espressif, etc…)
IoT
Robotics
Camera and Video Capture Receiver Stationary, Wheel/Tank and Underwater Vehicle
Unmanned Vehicles Terrestrial and Marine
Research & Development (R & D)
Desktop Applications (Windows, OSX, Linux, Multi-OS, Multi-Tier, etc…)
Mobile Applications (Android, iOS, Blackberry, Windows Mobile, Windows CE, etc…)
Web Applications (LAMP, Scripting, Java, ASP, ASP.NET, RoR, Wakanda, etc…)
Social Media Programming & Integration (Facebook, Twitter, YouTube, Pinterest, etc…)
Content Management Systems (WordPress, Drupal, Joomla, Moodle, etc…)
Bulletin Boards (phpBB, SMF, Vanilla, jobberBase, etc…)
eCommerce (WooCommerce, OSCommerce, ZenCart, PayPal Shopping Cart, etc…)
Instructor and E-Mentor
IoT
PIC Microcontrollers
Arduino
Raspberry Pi
Espressif
Robotics
DOS, Windows, OSX, Linux, iOS, Android, Multi-OS
Linux-Apache-PHP-MySQL
Follow Us
J. Luc Paquin – Curriculum Vitae – 2022 English & Español
https://www.jlpconsultants.com/luc/
Web: https://www.donluc.com/
Web: https://www.jlpconsultants.com/
Facebook: https://www.facebook.com/neosteam.labs.9/
YouTube: https://www.youtube.com/channel/UC5eRjrGn1CqkkGfZy0jxEdA
Twitter: https://twitter.com/labs_steam
Pinterest: https://www.pinterest.com/NeoSteamLabs/
Instagram: https://www.instagram.com/neosteamlabs/
Don Luc